By Christina Behnke
One of the best parts of learning how to knit for beginners is getting to know all the wonderful different fibers that you can work with. One of our favorite fibers here at Yarnalia is alpaca, which can be found in our yarns Cozy, a velvety light worsted weight, and Joy, a silky laceweight.
Alpaca yarn may look similar to yarn spun from sheep's wool, but this fiber has unique qualities that put it in a class all its own—in fact, alpaca fleeces were once reserved for Incan royalty. Alpaca fiber is soft as cashmere but infinitely more durable.
The fibers are far less scaly than sheep's wool and contain less lanolin, making it naturally comfortable to wear next to the skin. Alpaca fiber also has a buoyant quality, creating a lightweight yet cozy yarn that insulates against wintry weather.
Knitting alpaca yarn requires a slightly different approach than sheep's wool, but the results are so worth it. Read ahead for our top 5 tips for knitting with alpaca yarn.
KNOW WHAT PATTERNS WORK BEST
You've gotten your hands on this irresistibly cozy yarn—now, what are you going to knit? To showcase alpaca yarn in its best light, it's important to pair it with the right pattern. Alpaca fleece has very little crimp, which creates languid yarns with inherent satin luster.
You'll want your project to make the most of these yarns' drapey, silken properties. Joy is a perfect choice for lace, or anything you'd want to drape around your shoulders: scarves, wraps, and shawls.
Cozy offers toasty warmth to winter accessories like scarves, mittens, and slouchy hats, and it gives a luxurious finish to unstructured garments like ponchos and tunics.
USE THE RIGHT NEEDLES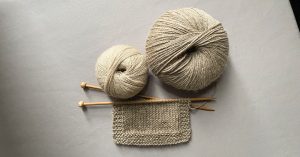 While alpaca yarn is known for its silken drape, it's even more renowned for its softness. Cozy and Joy are both spun from the finest baby alpaca, a distinction that refers to the ultra fine grade of the fiber.
Baby alpaca feels smooth as butter—and that means your stitches will have more "slip," which can get unwieldy on slick metal or plastic needles. Using a grippier material, like bamboo or compressed wood, will keep your stitches from slipping off your needles.
ALWAYS KNIT A SWATCH (AND BLOCK IT!)
Every experienced knitter will give you the same piece of advice about starting a new project: Always knit a gauge swatch first, and block your swatch the same way you plan to block your project.
This is especially important when working with an alpaca yarn like Cozy or Joy. Because alpaca fiber lacks crimp, it has little stitch memory, meaning that your project will not spring back into shape after you wash it.
Testing out your pattern on a swatch will prevent any surprises after your project is complete.
BLENDING IS YOUR SECRET WEAPON
Alpaca plays well with all kinds of fibers. You'll often find it blended with wool, silk, cotton, linen, nylon, or a combination of these. This cozy yarn can also be stranded together with a wool yarn, which is great way to add more structure to a project that needs it, such as a fitted beanie or a tailored sweater.
The key is to choose a yarn, like superwash wool Skylark, that has the same soft and luminous characteristics as alpaca. Skylark is a heavy fingering weight yarn that's available in many similar shades to Cozy and Joy, which allows the yarns to blend seamlessly. Or you can choose contrasting colors for a heathered look.
GIVE YOUR KNITS THE VIP TREATMENT
Though alpaca yarn is known for its durability, your alpaca knits will benefit from a little extra care. When washing your projects, be sure never to wring them out, which can cause the fabric to warp.
Instead, gently squeeze out excess water, taking care to avoid distorting the garment's shape. When storing your alpaca knits, avoid hanging them, which may cause them to stretch. Instead, fold them and store flat. For long-term storage, tuck in a few lavender sachets or cedar balls to keep moths at bay.
Do you have any questions about knitting with alpaca yarn? Let us know in the comments!