In the Northern Hemisphere, spring is well and truly upon us, and that often leads a lot of knitters to think it's time to put down their needles until cold weather returns. That doesn't have to be the case, though, if you don't want it to be!
Winter is, of course, the most popular season for knitting. People are cozied up indoors and want to stay warm, so making snug knits sounds like the perfect activity. Knits finished in winter can also be worn immediately afterward, which is gratifying.
During spring and summer, though, knitting can still be fun and useful. It just requires a little adaptability and openness to experimentation.
In today's blog post, we're going to share some tips for carrying your knitting through spring and into summer. We'll also link you to some patterns and yarns we think are especially suited to knitting in warmer weather.
Tip #1: Work with Lighter Weight Yarns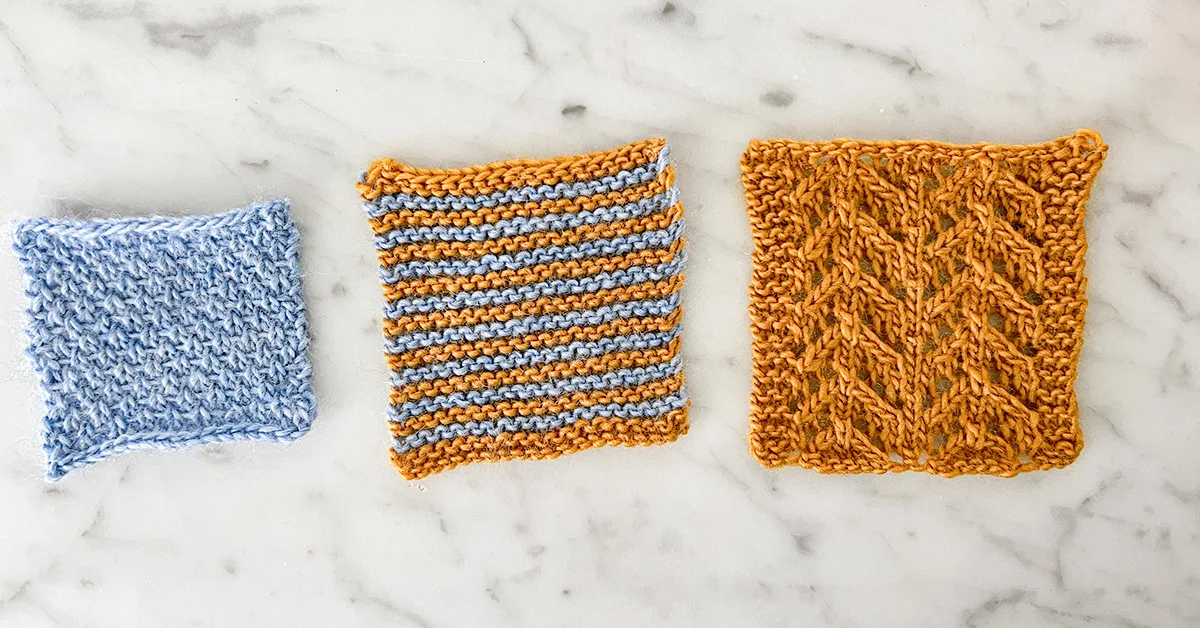 While it can be fun and helpful to work with worsted and bulky yarns during the fall and winter, those yarns can be pretty hot for knitting during spring and summer. They sit in your lap while you're working, adding heat to your body when the weather is already warming you up. 
What's more, projects knit in those heavier yarns aren't usually comfortable to wear in warm weather. When you finish them, you'll usually have to pack them up until the weather cools off again.
What you can do instead is try working with lighter yarns like fingering-weight and lace-weight. These yarns have less bulk so they won't overheat you as badly. Depending on where you live, they might even still be useful during spring and summer, especially if your summers don't get too hot or if you live somewhere with aggressively air-conditioned buildings.
Tip #2: Work at a Looser Gauge
When you're knitting during spring and summer, really dense garments at a tight gauge can be uncomfortable to make and to wear. They are heavy and stiff, and they don't allow for much airflow.
As an alternative, try knitting items at a loose gauge, using the largest needle recommended for the yarn you've chosen or maybe even one size above that. This will create a more open, drapey fabric that will allow for more air flow.
Yarnalia's Solace Cardigan is a great example of this. Solace is knit using Skylark yarn, which is a single-ply fingering-weight yarn made from 100% superwash wool. Skylark has a recommended needle size of US 6 (4.0 mm), but the pattern uses a US 7 (4.5 mm) needle for a looser gauge. It's also a slightly oversized garment with lots of drape, which allows for more airflow to keep you cool.
Tip #3: Make Smaller Items
Sometimes, even a lighter weight garment is still just too much bulk during the summer. On those days, it can make sense to work on smaller projects. You can choose all sorts of things: socks, hats, mitts, or squares that can later be seamed into a blanket are all popular summer knits. Mesh bags for hauling supplies to the park or beach are also great for knitting during this warmer season.
Smaller knits have several advantages. Most importantly, when you work on them, you hold the entire item in your hands. That means they won't be sitting on your lap and insulating you like a blanket.
They're also usually faster to knit than garments, which is nice if you need to make a gift quickly or just want some semi-instant gratification.
For a fun hat in a lightweight yarn, try the Grace Hat, which uses fingering-weight yarn and simple ribbing to create a relaxed, casual accessory. Because it's knit in fingering-weight yarn, the Grace Hat will also take up less space in your bag, which makes it perfect for taking along on a road trip or summer vacation.
Tip #4: Focus on Lace
Speaking of airflow, knitting lace during the warmer months can be a great way to stay cool without giving up your stitching hobby. Lace projects have the double benefit of both using a lighter yarn weight and having lots of open texture to allow for the passage of any breeze that might pick up. 
If you use a lace-weight yarn and a larger needle size, you can create diaphanous accessories that float on the breeze without overheating you while you wear them. That's another advantage these items have: you don't have to put them away until fall when it's cool enough to wear them. A lace-weight wrap is perfect for shoving in your bag and pulling out as the evening cools down.
Yarnalia's Joy yarn is a great choice for lace-weight projects. It's made with 100% baby alpaca fibers and comes in a range of colors including soft neutrals and bright jewel tones. It's also the delicate gray yarn you'll see in some of the photos in this post.
Tip #5: Embrace the Cooling Power of Wool
Most people think of wool as a cold-weather fiber, but it turns out wool is great in the heat, too. That's because it has moisture-wicking properties, which means it will pull the sweat away from your body and allow it to evaporate more easily. You'll stay cooler and more comfortable because your clothes will be dry and your skin will still be cooled by the evaporation.
Just as important, wool also doesn't absorb odor like other fabrics do. If you wear your wool knits during spring and summer, you won't have to worry about sweating in them and getting them smelly.
For lightweight garments that are still comfortable during the summer, Yarnalia's Stormy is a great choice. It's a fingering-weight wool with some nylon mixed in, meaning it's both lightweight and durable.
Tip #6: Play with Plant Fibers

If you really can't stand the thought of using wool when the weather warms up, it can be really fun to experiment with yarn that's made of plant materials. Cotton, linen, and bamboo are all popular plant fibers.
When adapting a pattern for use with a plant-based yarn when it was originally written for a yarn made of animal fibers, keep in mind that plant-based yarn have less memory and more drape than wool. That means they'll tend to stretch with wear and will flow against the body more easily.
If you're not ready to try this approach with a garment, an accessory is a great place to start. The Glory Scarf is a great candidate because of its simple shape and construction. You don't have to worry if the garment stretches unexpectedly, because no matter what, it's still a rectangle you'll wrap around your shoulders. It just might have slightly different dimensions from what you had originally expected.
—
Knitting during the spring and summer can present challenges even for the seasoned knitter. The heat and humidity can make yarn glide less smoothly across our hands and feel scratchier than usual. It can also feel somewhat off-putting to knit an item in the springtime while knowing that you won't get much use out of it for a while.
But with a little curiosity and creativity, you can keep knitting even on the hottest, longest days of the year. Hopefully, these six tips will help you along the way.