Are you curious about how you can start add a little custom design to your knitting projects? Combining yarns with double-stranded knitting is one of the quickest and easiest ways to spice up your knitting. To do it, you simply hold two strands of yarn parallel and knit them as if they were part of one strand.
While any two types of yarn can be combined with double stranding, pairing yarns with similar fibers or fiber blends is the best choice when trying out this technique for the first time. This will ensure that the yarns will behave the same way on the needles while you knit them. Pairing yarns with similar qualities is also the way to go if you're looking to create a cohesive, seamlessly blended fabric.
Two yarns that we love using in combination are Wonder and Marvel. Wonder features a blend of 30% superwash wool and 70% acrylic, while Marvel is made from 60% superwash wool, 20% acrylic, and 20% nylon. Stranding these two yarns results altogether in a nicely balanced fiber blend of 50% wool, 50% acrylic, and 10% nylon. Wonder and Marvel are both fully machine-washable, which also takes all the guesswork out of caring for finished projects that use them in combination!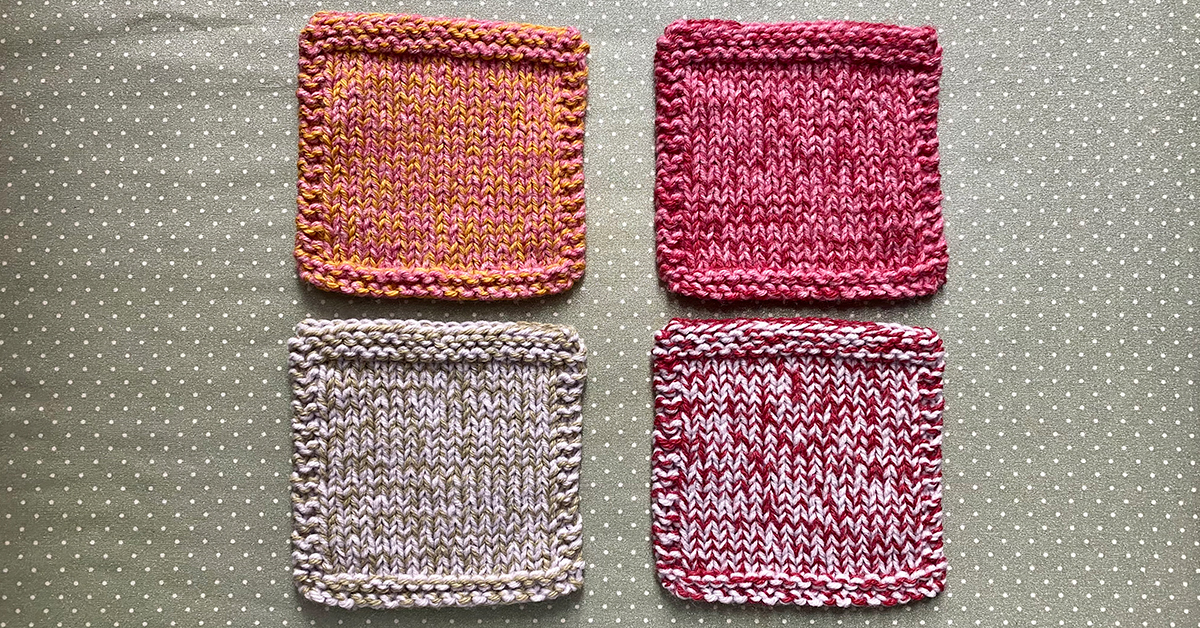 One of the most enjoyable aspects of double stranding yarns is the ability to create a whole new color palette. Wonder's muted heathers and Marvel's saturated shades offer more than 100 options of color combinations. To avoid clashing when selecting your colors, try to match at least one aspect found in both colors. For example, Wonder in Light Vermillion stranded with Marvel in Gold Star (top left) pairs a pastel pink with a bright gold, but the colors coordinate because they are both warm-toned. Similarly, the high-contrast pairing of Wonder in Spring Lilac and Marvel in Ruby Shoes (bottom right) works because both colors are cool-toned. Pairing tints and shades of the same hue (Wonder's light pink Light Vermillion and Marvel's deep red Ruby Shoes, top right) or colors with similar qualities, such as two different pastels (Wonder in Spring Lilac with Marvel in Matcha Tea, bottom left) also works nicely.
Knitting with two different yarns held together will result in a much thicker gauge than you would get using a single strand of either yarn. Because of this, it's especially important to test out different needle sizes in a gauge swatch. Wonder is a DK weight yarn, and Marvel is a sport weight. I decided to start with a US size 7 needle, which is one size larger than the needle I would typically use to knit a DK weight yarn.
My swatch knitted on US size 7 needles came out very firm and tightly knit, with a gauge of just under 4.5 stitches per inch. While this is a typical worsted-weight gauge that is used in a wide range of patterns, there aren't many projects I would use it for. The fabric is thick and almost rigid, which would make it difficult to wear on the body. It could be useful for home goods projects, such as a set of knitted placemats or nesting baskets.
My second swatch was knitted on US size 8 needles, which resulted in a gauge of approximately 4.25 stitches per inch. This swatch was still quite firm. However, the fabric was flexible enough that it could work in wearables requiring a sturdy fabric, like slipper socks, or added insulation, like extra-warm mittens. Even so, I would have to do some searching to find a pattern that uses this slightly irregular gauge.
I knitted my final swatch on US size 9 needles. Finally, I was getting somewhere! This swatch was sturdy but supple, with just the right balance of elasticity and drape. The gauge measured approximately 4 stitches per inch, which is a standard Aran-weight gauge. This fabric would be perfect for all kinds of garments that require a little structure, such as hats, cowls, or jackets. I could easily swap this pairing in for any pattern that calls for a chunky wool yarn.
Yarnalia's capsule collection of yarns was developed with double-stranded knitting in mind, so feel free to experiment. We'd love to see what color and fiber combinations you come up with. Be sure to tag @yarnalia when you share your projects to Instagram!