One of our favorite wardrobe staples here at Yarnalia is a good knit wool wrap or scarf. They're incredibly versatile and useful in all seasons. You can bundle up to keep your neck extra warm in winter or wear them draped over your shoulders to keep the sun off in summer. They're also relaxing and fun to make–a real bonus!
Today, we have a pattern recommendation for you that we think you'll love. The Glory Scarf, designed for us by Matthew Schrank, is a simple, elegant, textured scarf knit in our Marvel yarn. We really enjoy the relaxing rhythm this scarf settles into as you work it.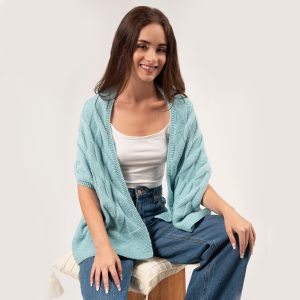 About the Yarn – Marvel by Yarnalia
The Glory Scarf is knit using five skeins of our Marvel yarn. Marvel is a mix of 60% superwash wool, 20% acrylic, and 20% nylon. There are 164 yards in each 50g ball.
Marvel is a knitting yarn spun with a three-ply construction, which means it has a pleasingly plump shape and extra durability. When yarns have more plies spun together, those plies lend support to each other, which makes for a stronger yarn. As the three plies twist around each other, they form a more rounded yarn (compared to a two-ply yarn, which tends to be more of an oval shape).
This leads to crisp stitch definition, which is useful in a pattern like the Glory Scarf. You want those sharp lines to pop, and you need a plump knitting wool to achieve that!
The fiber mix in our Marvel yarn also makes it easier to care for than some other yarns made with pure knitting wool. While we still recommend hand-washing this yarn because of its high wool fiber content, it is less likely to be badly damaged if it accidentally goes through the washing machine. That makes Marvel a great choice for accessories that will get heavy use and for kid knits, too.
Finally, let's talk about how the fiber content affects the nature of the knit fabric itself. In this case, the nylon adds sturdiness, while the acrylic adds softness and drape. With this fiber combination, you can wear items knit with Marvel yarn right next to your skin without irritation.
In other words, Marvel is a multifaceted knitting yarn, perfect for everyday use but still soft and springy. That makes it a great choice for a scarf like the Glory Scarf, which we know you'll be reaching for again and again.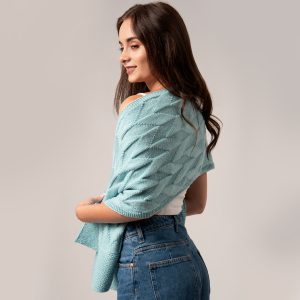 About the Glory Scarf
The Glory Scarf features a repeating diamond pattern that is perfect for adults and kids of all stylistic leanings. Go with a muted neutral for the person whose wardrobe is minimalist, a soft pastel for the romantic in your life, or something vibrant for your friend who loves to be seen. Whatever your style vibes, the Glory Scarf will fit right in.
Let's dig into some of the key things you should know about the Glory Scarf.
Skill Level
The Glory Scarf is a great option for adventurous beginners looking to stretch their skills. Knit and purl stitches combine with decreases and increases to create the leaning diamond shapes in the Glory Scarf. Other than that, there are no tricky stitch combinations, cables, or lace elements, so this design is a great learning piece.
This knit scarf pattern is probably not a good choice for a true beginner working on their first project, though. Although it looks simple, the Glory Scarf uses increases and decreases that might be overwhelming for a brand new knitter.
For more experienced knitters, the Glory Scarf could be a very relaxing knit. With its repeating pattern motifs, this knit wool wrap settles into a groove very quickly. You'll have the pattern memorized before long and won't even need the chart after a while. Then you can take it anywhere and work on it while watching your favorite shows, too.
Charted Instructions
Knitters planning to make the Glory Scarf should be comfortable reading charts or willing to learn. The pattern for this scarf relies heavily on charted instructions and does not include line-by-line instructions for the parts that are charted.
If you've never read charts, though, this is a great project to learn on! We like this simple instructional blog post from the wizards over at Tin Can Knits that walks you through how to read a chart. Unlike with many of the more complicated lace charts, this pattern only has a few stitch symbols for you to learn. That makes the Glory Scarf a great way to stretch your skills and pick up new ones.
Why We Recommend A Wool Yarn
Plant fibers are often popular for knitting in summer, but for this knit scarf pattern, we recommend a yarn with wool as its primary fiber. Knitting wool is lightweight, durable, and resists odor, which makes it perfect for using in all seasons.
We also recommend using wool because of the size and shape of this scarf. The Glory Scarf is large and dense, and a heavier fiber would start to sag over time. Yarnalia's Marvel Yarn is a perfect knitting yarn for a garment with this size and fabric characteristics, because the wool/acrylic/nylon blend means it won't sag or droop after wear.
Outfit Ideas
This knit scarf pattern is so versatile that it can be used for a scarf for all occasions! Here are just a few ideas.
If you're attending summer weddings, you may want a knit wool wrap to drape around your shoulders for an overly air-conditioned church or a breezy nighttime reception outdoors. The elegant texture of this scarf will make it an excellent addition to a festive outfit, but it's still subtle enough that it won't steal the show.
Layer it under a chic oversized wool coat in wintertime. This is such a classic scarf that it would really shine with a classic outfit. Pair it with a simple knit hat in the same yarn for an extra bit of style.
Tie it onto an oversized tote for a wow-inducing accent. This scarf is lightweight enough that you could tie it around the handle of your bag and always have it handy, while still showing it off to everybody when it's not physically on your person.
However you decide to wear your Glory Scarf, it'll be the perfect addition to your wardrobe. Whether your style is business casual, resort chic, or cottage core, it'll fit well into your needs.
About the Designer – Matthew Schrank
Matthew Schrank is a multi-faceted designer based in NYC. He has deep roots in the fashion industry, from his educational background at the Fashion Institute of Technology to his work for Vogue Knitting and in menswear design. His designs often feature strong geometric shapes and bold lines.
His experience in designing menswear really shines through in the Glory Scarf, too. The clean, strong lines of this knit scarf pattern echo elements often seen in men's suiting. In particular, the diamonds on this scarf make us think of crisp lapels on an evening jacket.
—
Are you knitting a Glory Scarf for yourself or for someone special? Please share your photos with us! We'd love to see your work. You can leave us a note in the comments below.