Springtime has well and truly arrived in the Northern Hemisphere, while the Southern Hemisphere slowly slides into autumn. These two seasons are times of transition, and they call for a transitional wardrobe, too.
Today, the Yarnalia team has a recommendation for a knit sweater pattern that will serve your changeable weather needs. Whether you're in the Northern Hemisphere and need to dress for cool mornings and warmer afternoons, or you're in the Southern Hemisphere and need to prepare for unpredictable rain showers, the Solace Cardigan will be the perfect addition to your wardrobe.
Read on for all the details you'll need to know about the Solace Cardigan's construction, sizing, required materials, and more.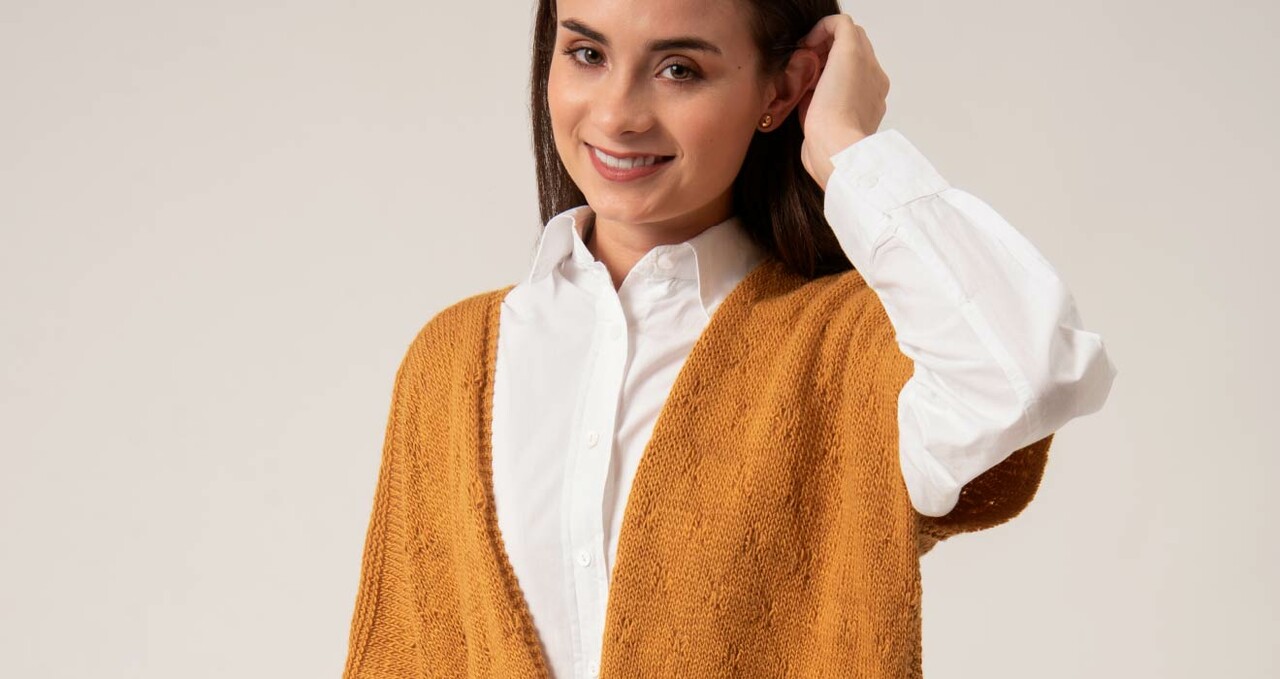 About the Solace Cardigan
The Solace Cardigan is an open-front sweater with an abundance of elegant drape. It features an graceful, all-over stitch pattern that lends visual interest without making the knit excessively complex. The wide sleeves allow for plenty of comfortable movement, while its length sits right at the hips.
This is also a size-inclusive design! The Solace Cardigan is graded to fit bust sizes from 30" to 68", with about 12" of ease across the back. It is designed to fit loosely, and that loose fit is accounted for in the grading. In other words, you won't need to play guessing games when trying to figure out whether and how your chosen size will fit.
Construction Notes
This cardigan is knit in one piece from the bottom of the back panel upward. This panel is knit flat. After completing the back panel, the pattern calls for placing one side panel's stitches on holding, binding off the neckline, and working the panel for the other side. Then the other panel is finished, and the sides are seamed together.
This simple, straightforward construction is ideal for the knitter who does not want to seam many pieces together. It's also a very intuitive construction, which is a great fit for the knitter who wants a project they can take with them and work on while doing other things (no need to check your pattern every couple rows for shaping notes or complex construction details). 
The oversized fit means you do not have to knit separate sleeves. As a result, you don't have to worry about picking up stitches around an armhole, fiddly armhole shaping techniques, or finding an extra set of needles for small circumference knitting. If you're a newer knitter still building their needle collection, this will be a helpful design element.
Recommended Skill Level
If you're interested in making the Solace Cardigan but haven't made many garments before, don't worry! This is a great design for learning. Because of its simple construction style described above, this cardigan will help you focus on learning the basics of garment knitting without having to juggle too many components at any one time.
You will need to use just one type of seaming (the mattress stitch) to finish up this cardigan, and there are only two seams to sew. The Solace Cardigan is knit on US Size 7 needles, so it'll also grow quickly compared to some other types of sweaters. If this is one of your first garments, that might be an appealing aspect.
This pattern does use a stitch technique that may require a little experimentation from a beginner. More experienced knitters will easily grasp this stitch, which requires dropping a stitch for a few rows and pulling yarn through the dropped stitch once it reaches the correct spot.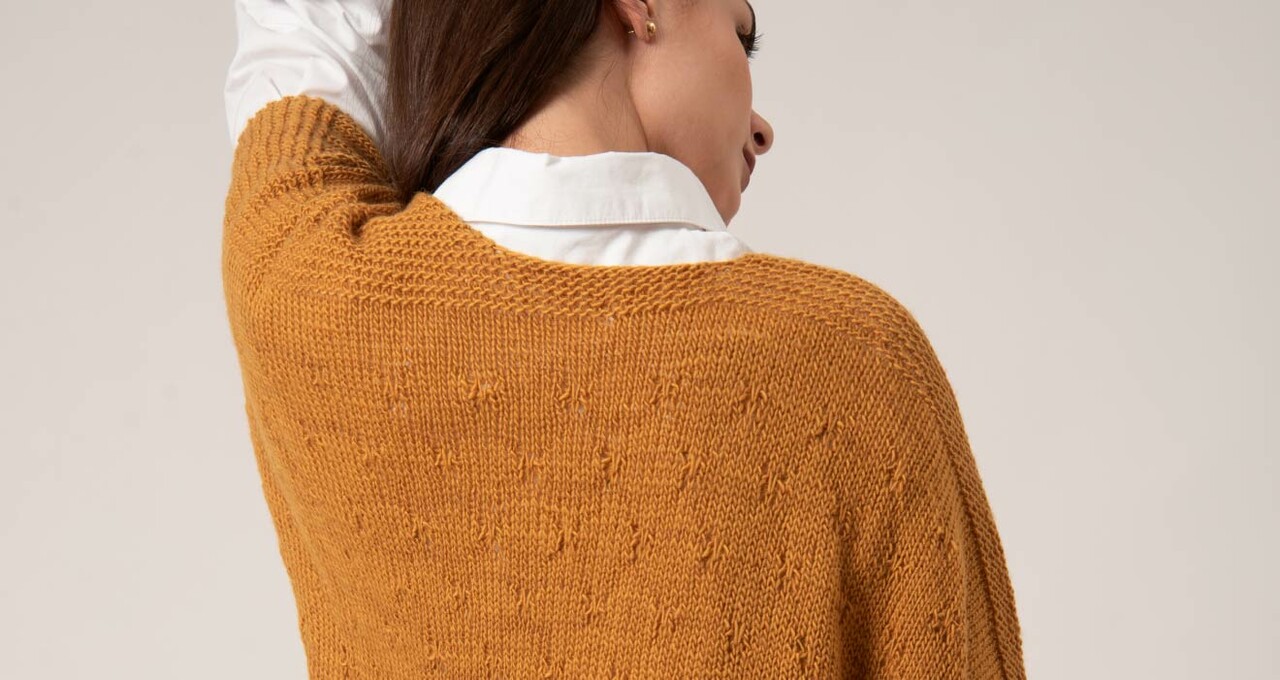 Outfit Ideas
If you're planning to pair the Solace Cardigan with your existing wardrobe pieces, here are some ideas!
Outfit 1: Layered over a crisp, white, button-down shirt and slacks at the office. This outfit is sleek and sophisticated, perfect for client meetings or video conferences in an overly air-conditioned room. 

Outfit 2: Worn over a sleeveless sundress for a lightweight layer. If you're going to vacation somewhere this summer, you know to plan for the way that sometimes, even warm places have a stiff breeze that can cool the temperature quickly. The Solace Cardigan will be the perfect layering piece to pop over a sundress without overheating yourself.

Outfit 3: Popped on top of a linen jumpsuit and belted for an effortlessly cool look that would fit in at the farmer's market or an art class. If you like flowing fabric but want a little more definition at the waist, belting your sweater is a great solution. Mixing a lightweight wool sweater with a linen jumpsuit is also a great way to use natural, sustainable fibers in your wardrobe.
Because of its simple yet elegant silhouette and its subtle stitch texture, this cardigan is a really versatile option. It fits into a wide range of wardrobes and lifestyles with very little effort. 
About the Yarn – Skylark Yarn by Yarnalia
To knit the Solace Cardigan, the Yarnalia team recommends our Skylark yarn. Skylark is a single-ply yarn made from 100% superwash wool. Because we suspect this sweater might become one of your favorites and get a lot of rotation in your wardrobe, we recommend this superwash yarn so you can more easily care for your cardigan.
We like that Skylark yarn has a light fluffiness that's characteristic of its construction. Single ply yarns are known for being soft and airy, which makes them perfect for transitional and warm-weather garments. Wearing a cardigan kit from Skylark yarn is a little bit like wearing a warm, snuggly cloud.
There's also a slight halo from the wool that gives knits done in Skylark a certain ethereal nature to it and a softening of the stitches. This yarn is great for garments with simple stitch textures like the one used in the Solace Cardigan. That's because, with the soft halo, you'll still be able to see the stitch but it won't be quite so bold and sharp as it would be in a yarn without a halo.
Because of the construction of this yarn, we strongly recommend giving your sweater a soak in lukewarm water once you have finished knitting it (but before you do the seaming). Doing so will allow the softly spun fibers to expand and bloom, bringing the halo of this yarn into its full glory. Afterward, you'll want to squeeze out the extra water and lay your cardigan flat to dry, but you don't need to use pins or wires to aggressively shape it. Then, you can seam your sweater.
Depending on the size you choose to knit, you'll need 3-5 balls of Skylark yarn. Check the pattern notes on the sale page for more information.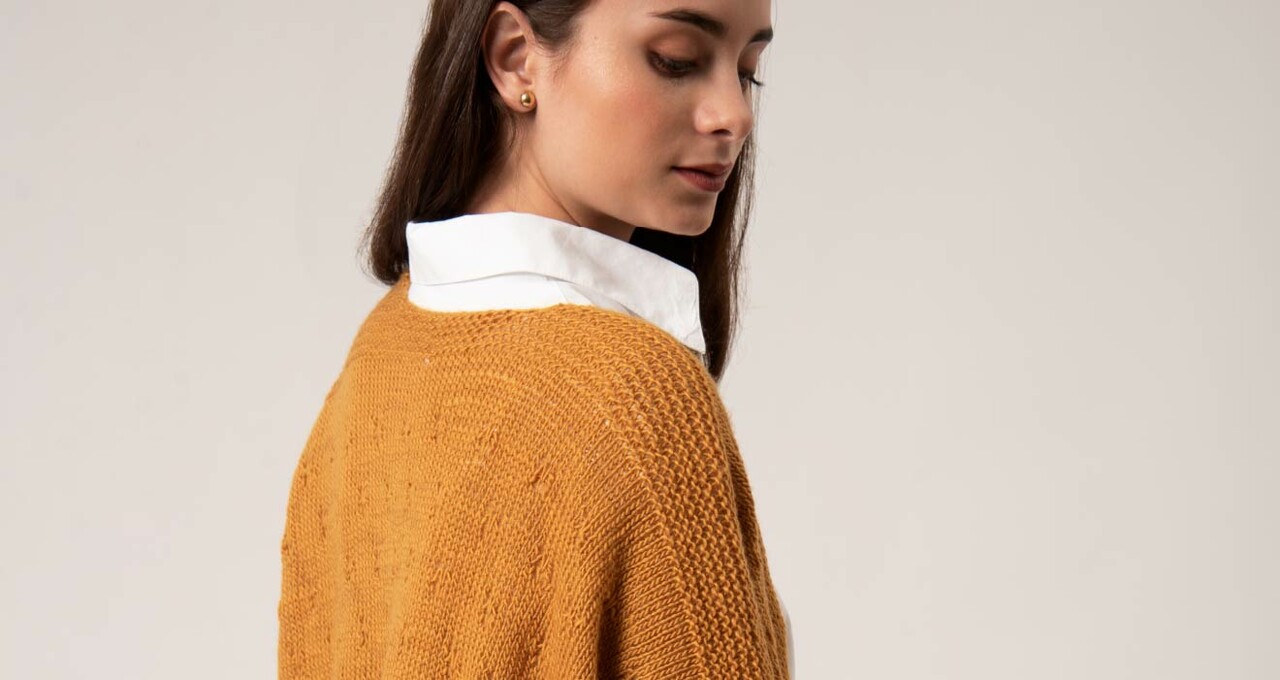 About the Designer
Vanessa Coscarelli Black is a knitwear designer based in New Jersey. After starting her career in the finance sector, she returned to her maker roots several years ago and began designing knitting patterns. Her designs are known for being elegant, somewhat minimalist, and often beginner-friendly. 
You can see Vanessa's work history showing up in the Solace Cardigan, which is well suited to both the corporate office and more casual environments, too. We love when a designer's prior work experience is visible in their designs like this!
Have you knit yourself a Solace Cardigan yet? We'd love to see how your version turned out! Leave the Yarnalia team a note in the comment section below or send us an email via our contact page on this website.