As the weather starts to cool off where I live in the Northern Hemisphere, I'm really feeling the squishy and ultra-warm brioche stitch. Luckily, Yarnalia has a new pattern featuring their Skylark yarn, and it's a great brioche project for beginners.
About the Yarn in This Blog Post
Skylark is a fingering-weight yarn made from 100% superwash wool. Its single-ply construction makes it ultra light and bouncy, which is perfect for accessories like hats. Skylark currently comes in a gorgeous range of 12 colors, from soft neutrals to rich jewel tones.
What I love about working with this yarn is the hand feel. The yarn has a springiness to it that feels ultra squishy while I'm knitting, especially when (as with the hat in this post) I'm holding two strands together.
Skylark is a great yarn for pieces that need to be warm but not heavy. The lofty spin of the yarn allows for more air to be trapped between the wool fibers, which will help insulate your body against cold winter winds. 
What Is Brioche Stitch
Now, let's talk a bit about the brioche stitch and what makes it so special before we dive in to the hat that's the real star of this post.
Brioche stitch is a type of knitting that creates a very warm, very stretchy, very squishy ribbing pattern. It's done by working every other stitch in each row. The stitches that don't get worked are slipped with the working yarn crossing over them in a way that creates a double layer of yarn.
This versatile stitch can be worked in one color or in two colors. Two color brioche will have one color dominant on the front of the knit fabric and the other color dominant on the back, with the non-dominant color showing slightly in the ribbed gutters between the knit stitches.
Brioche stitch is also fully reversible, meaning you'll end up with a project that can be worn more than one way. In essence, you're getting two knit items for the effort and price of one.
Finally, if you're interested in knitting designs that feature unusual swirls and spirals or leafy botanical shapes, brioche stitch is uniquely suited to these sorts of designs. That's because the decreases that can be worked in brioche stitch result in some spectacular visual elements.
A brief note of caution: brioche can be tricky for some knitters, and it is definitely harder to fix mistakes in brioche. If you're new to brioche knitting, it's good to start with a simpler project. Luckily, I've got the perfect recommendation for you.
The Skylark Hat: A Great Beginner Brioche Project
If you're just starting to get the hang of brioche stitch, though, you can't go wrong with a basic hat for a learning project. Yarnalia's new pattern, the Skylark Hat, is perfect for brioche learners.
Most importantly, the Skylark hat is straightforward. The majority of the hat is knit in a simple two-color brioche pattern, with one decrease technique used on the crown. Beginners can settle into a nice rhythm of practicing their brioche stitches for a few hours without having to worry about any increases or decreases.
When it comes time to work the crown decreases, you won't have to learn several different decreases all at once. Instead, you'll just need to focus on the one decrease that will take you all the way to the end. 
Suggestions for Exploring Brioche Knitting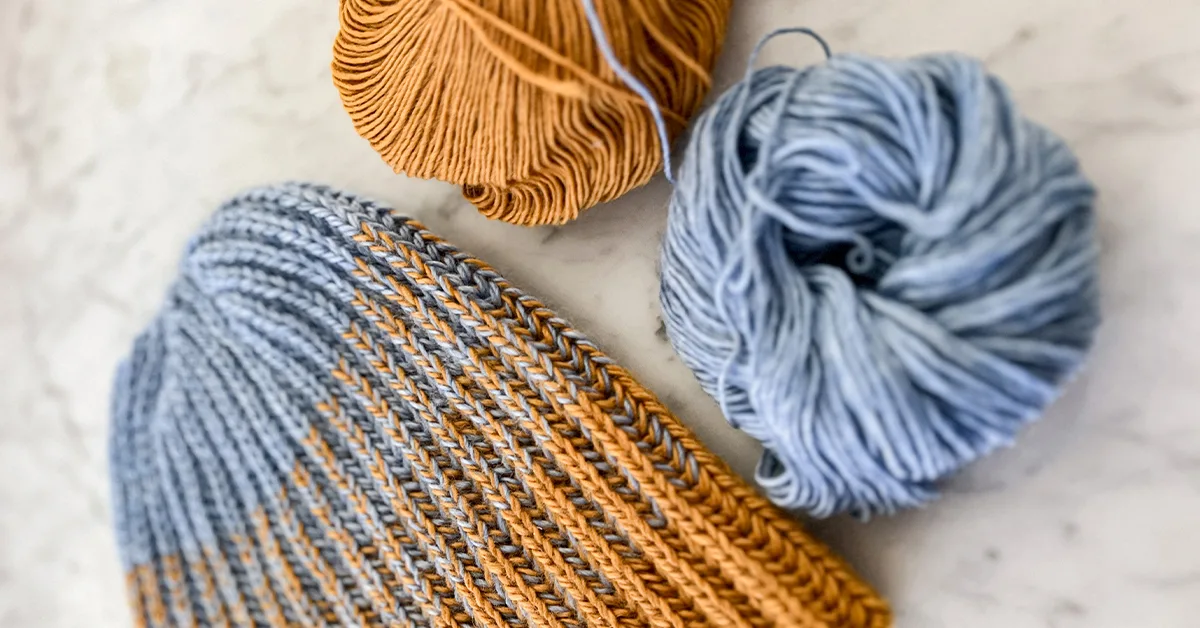 I wasn't always comfortable with brioche knitting, and in fact, I'd had several incidents where I had started trying to learn brioche only to abandon it when I got too frustrated.
That changed when covid hit and, like so many people, I decided to learn some new skills while staying home. I signed up for Robynn Weldon's Lockdown Brioche School, a free project meant to teach knitters the basics of several different brioche stitches. Something clicked, and afterward, brioche made perfect sense. I've since knit several hats and cowls in brioche, and even an entire sweater.
If you're looking for more challenging brioche knits, be sure to check out Jenn Lampen's work. Jenn designs under the name Synaptic Stitches, and her patterns are targeted toward tickling your brain in just the right way. I'm absolutely obsessed with her newest release, Levain, and can't wait to make my own.
Finally, for a wide collection of brioche accessories and designs that mix brioche with other types of knitting, Lavanya Patricella has truly stunning options. 
Tips and Tricks for Successful Brioche Knitting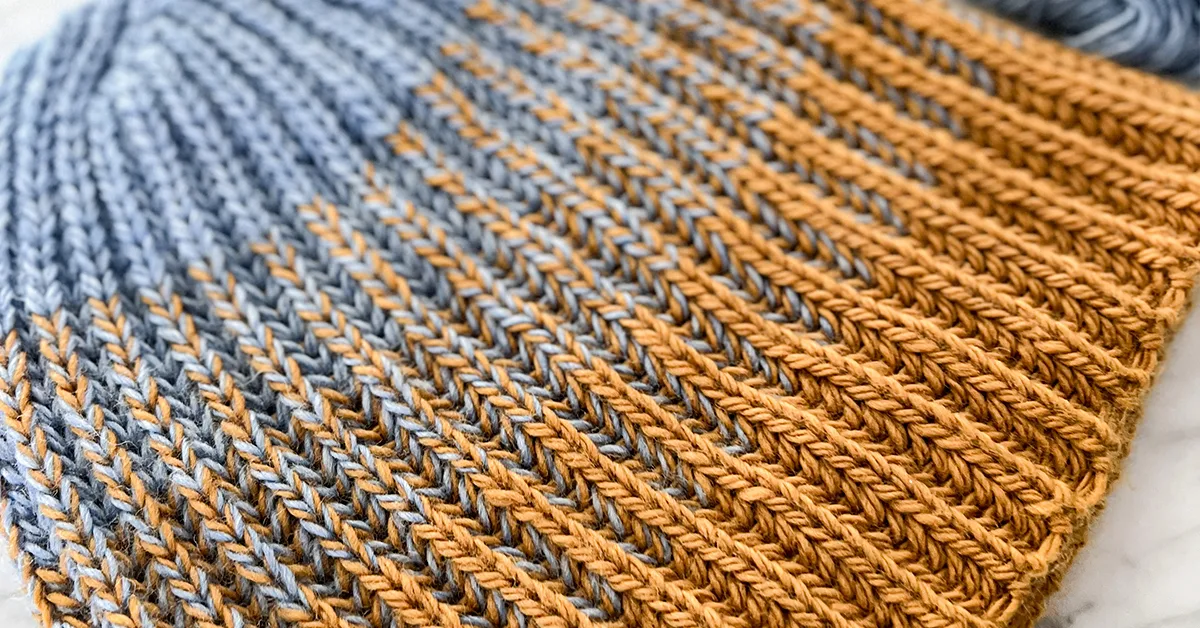 Because brioche knitting is somewhat different from other knitting techniques, it sometimes helps to have a few special strategies in place to make the process go more smoothly. Here are a few tips I've found helpful in my brioche knitting journey.
Choose a Yarn With Grip
Brioche stitches tend to be looser than regular knitting stitches, which means they're more likely to slide off your needles. To counterbalance that, choose a yarn with a grippy surface, like a good wool. You probably don't want to use silk or bamboo for your first brioche project (they'll also be too heavy for the already stretchy stitches).
The Skylark yarn used for the beanie in this post is a great example of a yarn with grip. It's loosely spun and made from 100% wool, which means the scales on the surface of the wool fiber will be able to grip both each other and the needles a little more.
If you find you're still struggling with slippery stitches, try using needles with a grippy surface, too. Wood or bamboo needles will be helpful, and ultra slick metal needles might be best kept for other projects.
Use a Lifeline 
Fixing mistakes in brioche can be tricky, and you might find that it's easier to just rip back your work rather than dropping down to fix an issue. If that's the case, you don't want to have to rip out the whole thing and start over again.
To save yourself grief, knit with a lifeline. A lifeline is a length of extra yarn that you insert through the bottom of your stitches. When you need to rip back, that yarn will keep your project from unraveling completely. Then you can put the stitches back on your needles and carry on as usual. 
Keep a Couple Locking Stitch Markers Handy
Because brioche knitting works differently from regular knitting, it can be tricky to count the number of rows you've worked and remember which side of your work you're on (if you're not knitting in the round). 
To help make that easier, I like to clip progress keepers or locking stitch markers into my work periodically. They're helpful for marking decreases, counting rows, and showing which side of your work is which. 
Don't Give Up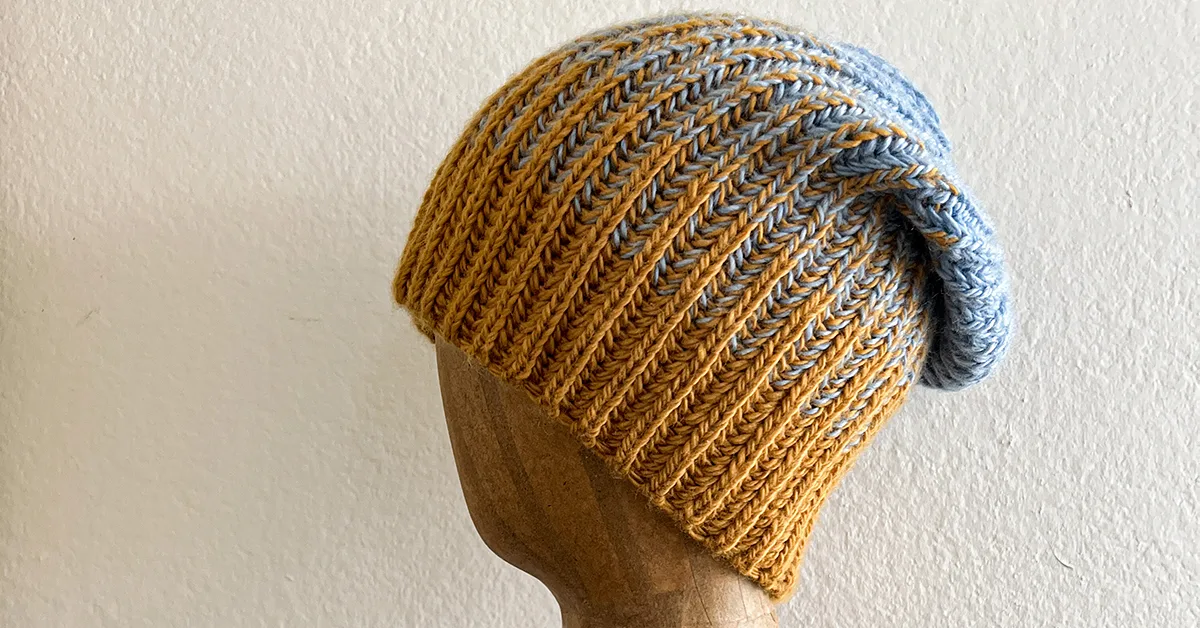 Most importantly, keep going, even if you feel frustrated sometimes. It's okay to set the work down and take a break, but do make sure to pick it back up again at some point. Although this is one of the more challenging knitting techniques, it is just as learnable as any other technique you've learned in your knitting journey. All you need is a bit of practice.