In a previous post, Our Top 5 Best Alpaca Yarn Tips, we walked you through the best techniques for working with this amazing fiber. Today, we're turning our focus to Cozy, our light worsted weight baby alpaca yarn.
With a softness comparable to cashmere, Cozy is easily the most luxurious yarn in the Yarnalia collection. Read along to learn about some of the patterns that show Cozy in its best light.
SIMPLE YET GRAPHIC STRIPES
With a balanced four-ply construction, Cozy has the lustrous finish of fine alpaca yarn, which makes even the simplest stitches look opulent. In fact, basic stockinette and garter-stitch patterns are Cozy's sweet spot, as complicated stitches and textures won't work as well with alpaca fiber's lack of elasticity. And while we love letting Cozy take center stage in basic patterns, sometimes we want to change it up a little. This is where stripes come in!
Not only are stripes an easy way to add interest to basic knit patterns, they also allow you to play with Cozy's gorgeous range of 12 neutrals, brights, and heathers. The tricolor swatch on the left, knitted in colors Scarlet, Snow, and Tangerine, creates a dramatic effect that would elevate a simple draped pullover. Even a two-row garter stripe, shown right, gets plenty of graphic interest from a high-contrast color pairing in Scarlet and Snow.
STUNNING STRANDED COLORWORK
Alpaca yarn and stranded colorwork go together like bread and butter. On one hand, the alpaca fiber's natural halo blurs the edges between color changes, making colorwork patterns look more cohesive.
On the other hand, the color "floats" used in stranded colorwork knitting bolster the fabric. The added thickness will be extra-toasty yet still lightweight, making Cozy a perfect choice for knitting colorwork hats.
If you're new to knitting stranded colorwork, start with a pattern where the colorwork sections are only worked once every few rows, like the swatch shown at left. This pattern also uses striping and knit/purl texture to add more visual interest.
If you're looking to flex your stranded colorwork muscles, try out a pattern that incorporates three or more colors in a row, like the swatch shown at right. The fact that alpaca fiber has significantly fewer scales and is smoother than sheep's wool means that your working yarns are less likely to tangle, even when working with multiple colors.
BEAUTIFUL WINTER LACE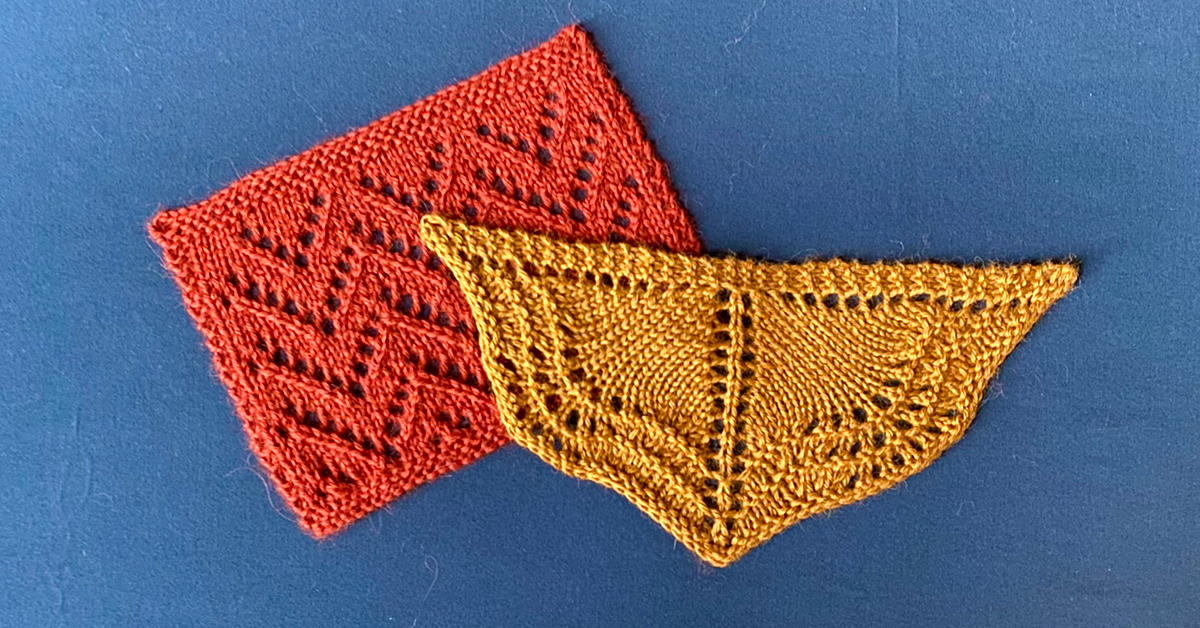 Alpaca's languid quality pairs perfectly with lace patterns, which are often reserved for luxuriously draped scarves, shawls, and cowls. While Joy, our laceweight baby alpaca yarn, is a great for delicate heirloom lace, Cozy is a wonderful choice for dressy scarves and warm winter shawls.
Just be sure to choose a lace pattern worked into a stable field of stockinette or garter stitch that you can knit at or near the recommended gauge. This will lend structure to your fabric and help to maintain the shape of the lace motifs. (Both of the lace swatches shown above were knitted on a US 7/4.5mm needle.)
An eyelet chevron, shown left, would be a beautiful choice for a scarf or cowl. The open-knit fabric would still provide plenty of warmth thanks to alpaca fiber's insulating properties. Used for a timeless stockinette triangle shawl, shown right, the natural beauty of baby alpaca fiber would need little more embellishment than an Old Shale lace border.
We hope these ideas can offer some inspiration as you play with Cozy. If you have any questions about working with Cozy or with alpaca fiber in general, or you'd like to learn more about the patterns shown here, feel free to drop us a line at hellp@yarnalia.com.