Each new crochet project can be a fun way to experiment with new yarns and learn new skills. Crocheting with fluffy yarns, though, can present unique challenges. These yarns are highly textured and sometimes have varying thickness within the same skein.
As a result, although they can be loads of fun to work with, fluffy yarns also require some special strategies.
In this blog post, we're sharing some of our favorite tips and tricks for crocheting with fluffy yarns, including our very favorite fluffy yarn, Yarnalia Fluffy.
About the Yarn – Yarnalia Fluffy
For the sample photos in this post, we have used Yarnalia Fluffy, which is a bulky-weight yarn made from a mix of 30% wool and 70% acrylic. This yarn has 109 yards or 100 m of yarn per 100 g.
It is constructed with two plies twisted together, but not twisted so tightly that the yarn loses its fluffiness. This is a lightweight, bouncy yarn with lots of body and texture.
We love Yarnalia Fluffy for gift knitting, chunky sweaters, blankets, and more. The fiber content means that it is easy to care for but still has the soft, natural feel of wool.
Tip #1: Use a Hook with a Sharp Tip
Different crochet hooks come with tips that are shaped differently from each other. Some are rounded, some are pointy, and some are kind of a wedge shape.
When you are working with fluffy or bulky yarns, it can be helpful to use a crochet hook with one of the sharper tip options. If you have a crochet hook with a little bit of a point or wedge at the tip, that will help you fit your hook into the spaces between the yarn or easily.
While this is helpful at any gauge, it's especially helpful when you are working with fluffy yarn, because the yarn's texture can make it harder to fit your hook into the right spaces.
Tip #2: Beware of Splitting the Yarn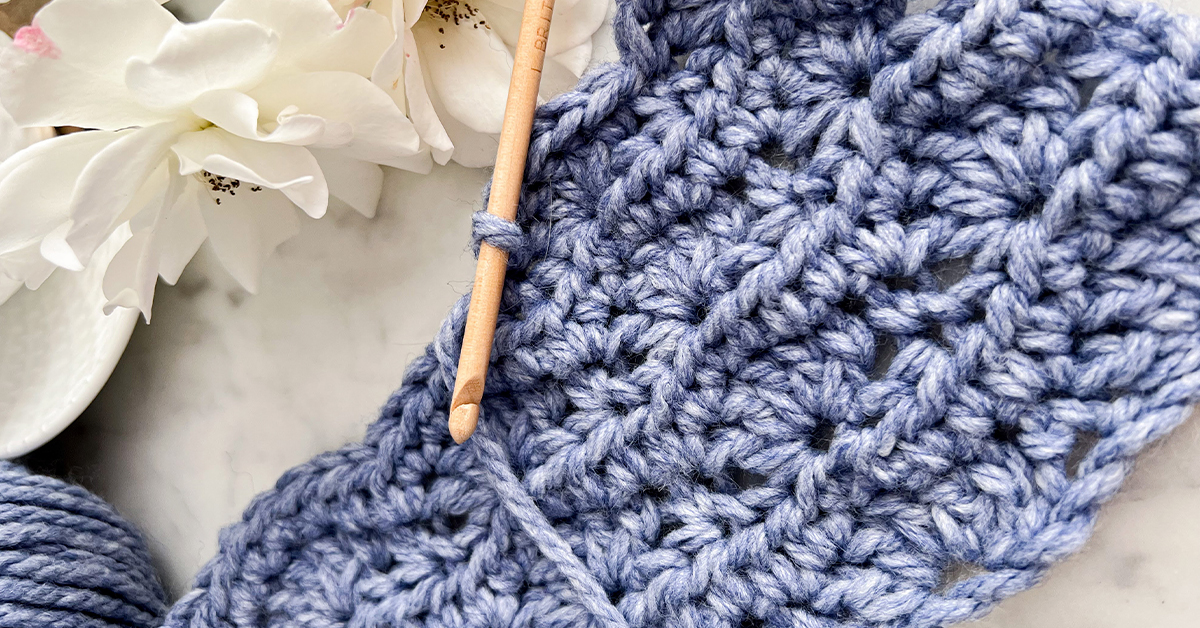 Most yarn has at least two plies, that is, two strands of yarn twisted around each other to make a single larger strand.
Yarnalia Fluffy is a good example of a two ply yarn.
This yarn is great for projects where you need more durability. That's because the additional plies allow for more strength to be distributed through the yarn. However, when you are working with a fluffy yarn, it can also be a bit of a challenge.
The challenge arises when sometimes, what looks like a space between two different strands of yarn is actually a space between two or three plies in the same strand of yarn.
When you are making your new stitches while crocheting with a fluffy yarn, make sure that you are inserting your hook between two different strands of yarn and not between the plies in one strand of yarn.
Tip #3: Use Locking Stitch Markers to Help Keep Track
Locking stitch markers like these ones are a crocheter's best friend, especially when it comes to crocheting with fluffy yarn.
Unlike with knitting, where you can suspend your stitch markers from a cable between two needles, crocheters need to put their stitch markers onto the stitch itself. These locking stitch markers allow you to clip the marker onto a stitch, leave it there as long as you need to, and then unclip it to remove it without having to unravel your work. Then you can place it in the next location where you need to keep track of your stitches.
The other reason locking stitch markers are helpful when crocheting with fluffy yarn is because the texture of the yarn can make it harder to see each individual stitch. If you are struggling with seeing where one stitch stops and the next begins, using the locking stitch markers as a way to keep track of your location in your project will help you keep moving forward.
Tip #4: Choose Light Colors for Better Visibility
It's always harder to see stitches in dark yarn than in light yarn. That situation will be aggravated if you are working with a fluffy yarn.
That's because, as we mentioned above, a fluffy yarn frequently has less stitch definition than other yarns, which will make it harder to see the individual stitches already. Add a dark yarn on top of that, and you could really have some trouble keeping track of things.
To mitigate that problem, use a lighter colored yarn, at least for your first couple projects with fluffy yarn.
Tip #5: Keep the Stitches Simple
When you are working with a fluffy yarn, really complex stitches might get lost in the yarn's texture. Your best bet is to work with simple crochet stitches and let the yarn be the star of the show.
Mixing highly textured yarn with very complicated stitches can be visually overwhelming, even outright chaotic. With simple stitches, the texture of the fluffy yarn can shine without having to compete against the equal visual impact of really complicated stitches.
This will also be helpful for you as a crafter. If you are crocheting with fluffy yarn, and that fluffy yarn obscures the stitches a little bit, it will be easier for you to see your work and keep track of your work if you use simpler stitches.
Tip #6: Work in a Spot with Good Light
Finally, you're going to want to choose a spot with good light for your work. You might be noticing a common theme here at this point!
As you work on your project with fluffy yarn, you are really going to want to maximize your ability to see your stitches. That starts with having good light. You can accomplish this in a number of different ways.
First, you can work on your crochet project outside. Crocheting in the sunshine is a great way to have plenty of light and also enjoy a bit of fresh air.
Second, you can also work on your project next to a window. If you are close enough to the window, you will be more likely to have nice, bright light that will help you see your stitches.
Finally, if it is nighttime or you don't have access to a good source of daylight, you can use a good lamp. We recommend a lamp with a bulb that is designed to mimic the wavelengths of natural light. Bulbs that skew too warm or too cool can affect your perception of the colors of your yarns and will make the crafting experience feel a little surreal.
Tip #7: Don't Give Up!
Crocheting with fluffy yarn can be a little bit challenging at first. If this is your first project with fluffy yarn, don't give up!
The more you practice with it, the more comfortable you will feel with your yarn. As you grow in comfort and confidence, crocheting with fluffy yarn will feel less daunting and will become more fun. Eventually, you won't even notice the things that used to be challenging for you.
If you're working on a project with Yarnalia Fluffy, we'd love to see your work! You can drop a note here in the comments or tag us in your posts, photos, and stories on Instagram. We're @yarnalia on IG. Happy stitching!