Superwash wool Skylark is one of my favorite yarns in the Yarnalia collection because it's so versatile. Available in 12 colors, it offers an amazing range of neutrals, as well as gorgeous jewel tones. And best of all, it can be knitted across a range of needle sizes.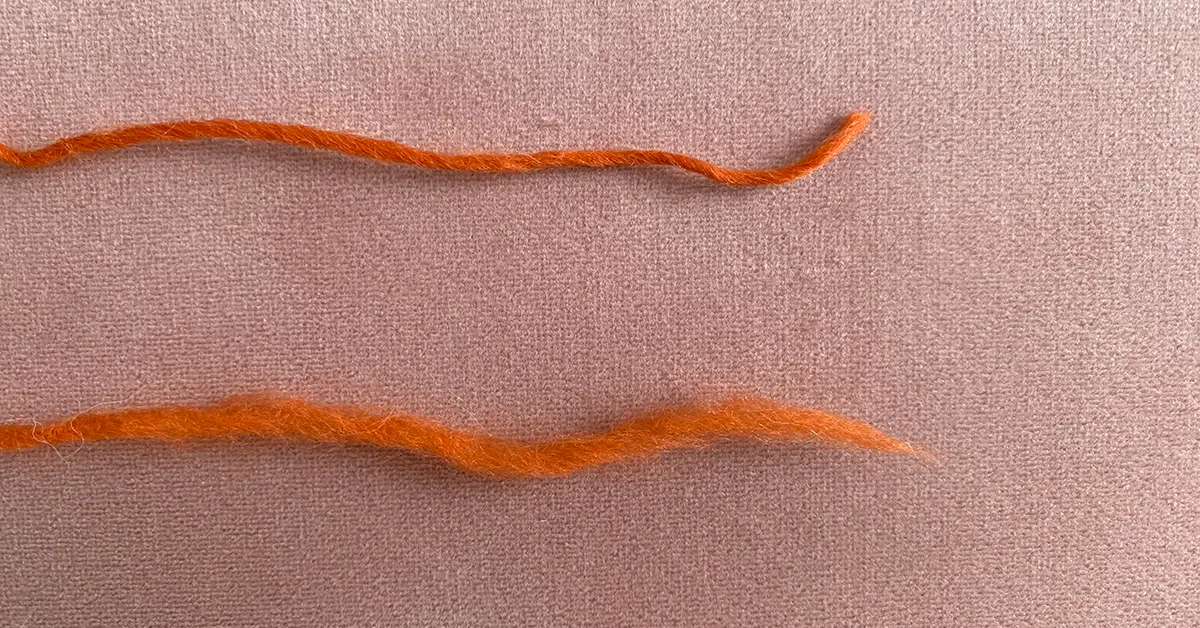 While Skylark is a fingering weight yarn, it's also made using a one-ply construction. This frees the fibers to expand and fill whatever space they have to take up after the project is blocked. Take a look at the photo above: The strand at the top is pulled from the skein, while the strand at the bottom was wet-blocked and dried. You can see just how much this fiber spreads out after blocking.
To try this out, I knitted Skylark on three different needle sizes (clockwise, starting top right): US 3, US 5, and US 7. Read on to learn about my results. 
P.S. Keep in mind that every knitter's gauge is unique! You might get a different gauge if you knitted Skylark using the same needle sizes I did below. That's why it is so important to always knit a gauge swatch.
FINGERING-WEIGHT GAUGE SWATCH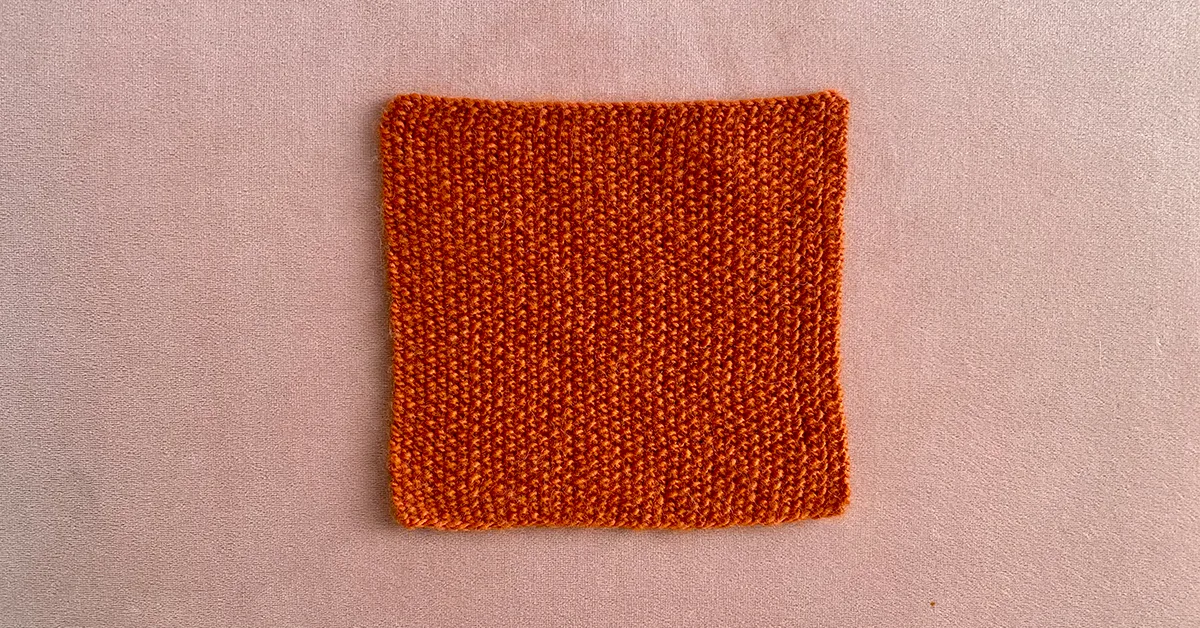 I knit my first swatch on size US 3 needles, which produced a gauge of 28 stitches over 4 inches. This is a standard fingering weight gauge. Knit in seed stitch in the Pumpkin Pie orange yarn shade, this swatch is firm and springy, with tons of stitch definition. Skylark's superwash wool properties give the fiber a glossy look that really makes this color pop.
Knitting Skylark at a smaller gauge helps reinforce the one-ply construction of the yarn. This gauge would be great for accessories that get a bit more wear, like mittens or house socks. A textured knit/purl stitch like seed stitch further bolsters the fabric, creating a warm, insulating fabric without added bulk. 
SPORT-WEIGHT GAUGE SWATCH
My next swatch was knitted at a sport weight gauge of 26 stitches over 4 inches on size US 5 needles. I chose a textured sand stitch pattern for this swatch. I also added a narrow two-row stripe in the Pumpkin Pie shade against a Hazelnut shade background. In contrast to the seed stitch pattern in the fingering weight swatch, you can see that the purl bumps in this swatch look more relaxed and rounded. 
Knit at a sport weight gauge, Skylark hits a nice balance between elasticity and drape, which is the sweet spot for close-fitting projects like sweaters and beanies. I could imagine designing a fitted pullover with a retro vibe using this pattern—but to save time, I'll probably just knit a hat!
DK-WEIGHT GAUGE SWATCH
For my DK-weight gauge swatch, I used size US 7 needles and got a gauge of 21 stitches over 4 inches. This swatch is knit in the Cluster Drop Stitch pattern used in the Solace Cardigan, and it gives you a sense of what the project would look like if you knitted it in a beige yarn color like Hazelnut. (Note that the gauge for the Solace Cardigan pattern is actually 20 stitches over 4 inches, so I would have to go up one more needle size if I were to knit this pattern.) 
Knitting a fingering weight yarn on a larger-than-usual size needle places more air between the stitches, allowing the fibers to expand and relax. The fabric of this swatch has gorgeous drape, which is essential to the waterfall design of the Solace Cardigan. Note that a looser gauge will expose more of the surface area of the fiber, which in turn makes it a bit more sensitive to wear and tear. Loose-knit projects in Skylark should be handled with a little extra care, and they should only be hand-washed.
No matter what gauge you're using to knit Skylark, it's important to always make time to knit and block your gauge swatch. Doing this preparation at the start of your project will prevent any surprises down the line and will help create a project that you can wear and enjoy for years to come.