In this month's installment of the Yarnalia blog, we are exploring some important concepts in the knitting world that often confuse new knitters. Because you can't just pick up the average dictionary and figure out what these terms mean, we thought it would be helpful to have an encyclopedia of terms new knitters should know. 
While this encyclopedia won't cover how to work various stitches, we will include lots of links to help you learn how to do all of these different techniques. 
Because part of becoming a better knitter involves knowing little tips and tricks to help give your work more polish.
In today's post, all of the swatches you'll see in these photos were knit with our Cozy yarn. Cozy is a 100% baby alpaca yarn in a light worsted weight. It comes in a range of rich jewel tones, soft pastels, and soothing neutrals, so there is a ball of Cozy for every project.
Now then. Let's talk about some key concepts that will help you improve your knitting.
Swatching
Swatching is the process for figuring out how many stitches per inch and how many rows per inch you get using a particular yarn on a particular set of needles. This is important, because knowing these numbers (also known as your gauge) is how you figure out what size your finished item will be. 
Every knitting pattern will tell you the gauge the designer used when creating the finished object, and you should try to match the gauge as much as possible. That way, your finished object will turn out the size you expect it to. 
To do that, you need to knit a piece of fabric using the yarn and needles you plan to use for your project. If the project is knit flat, you should knit it flat. If your project is knit in the round, you should also knit your swatch in the round. Your swatch should be large enough to measure a 4" (10 cm) x 4" (10 cm) piece of it. 
When you work your swatch, work it in the stitch pattern identified in the pattern. For example, many sock patterns will say that the gauge is knit in stockinette in the round. If so, you should also knit your swatch in stockinette in the round.
Weaving in ends
When changing yarn or finishing a project, you will have tails dangling off of your work. Don't just cut those! 
Instead, you'll want to use a darning needle to secure those ends tightly into your work. There are different ways to weave in your ends on the backside of your work, but the goal is to do it so that the yarn you are weaving in is not visible from the front of your work. 
Whatever method you choose, it's important to weave in your yarn instead of just cutting it because this will keep your work from unraveling. Knots are notorious for working loose over time, but if you weave in the tails, they will not be able to work loose from your project and then come unraveled. 
Blocking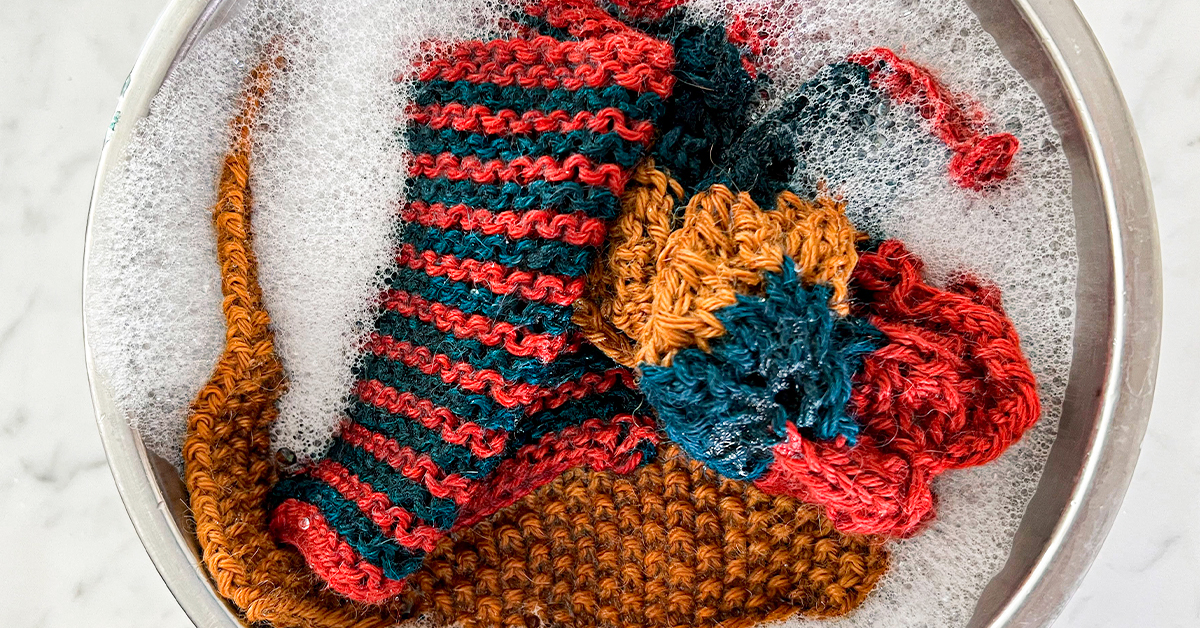 There is often some confusion about what blocking entails and why we do it, so this is a great place to explain. Blocking doesn't require fancy molds or shapers. What it requires is either submerging your finished project in lukewarm water (aka wet blocking) or gently steaming it. 
This will allow the fibers in the yarn of your project to open up and relax. Stitches settle into place and lace work opens out. You will be able to see the texture of your designs much more clearly after you block it. 
Some people, when they are wet blocking, will also pin it into a precise shape or place the finished item onto a shaper like a sock blocker. For most projects, this isn't necessary and is really just a matter of personal preference. 
The only time it's really necessary is when you are doing work with lace. Then, you will probably want to use wires, pins, or some other device to stretch the lacy item into shape.
Tinking
When you make a mistake, but it's only a few stitches back, you can undo each stitch individually and work your way back to that stitch. Then you can fix your mistake, and move forward. The process of undoing stitch individually and working backwards is called "tinking". 
This is because the word "tink" is actually the word "knit" spelled backward. Isn't that clever? 
So if you need to work your way back just a few stitches, and someone asks what you're doing, you can tell them that you are tinking and giggle a little at the confused look on their face.
Frogging
When you make a mistake and have to go back more than just a few stitches, you may want to rip out your work a little bit. When you do that, you'll take the work off the needles and pull the working yarn to undo many stitches at once. 
This process is called frogging. That's because when you pull out that yarn, you are ripping it out. In other words, you are going to "rip it, rip it."
What can I say? Knitters tend to love wordplay.
Lifeline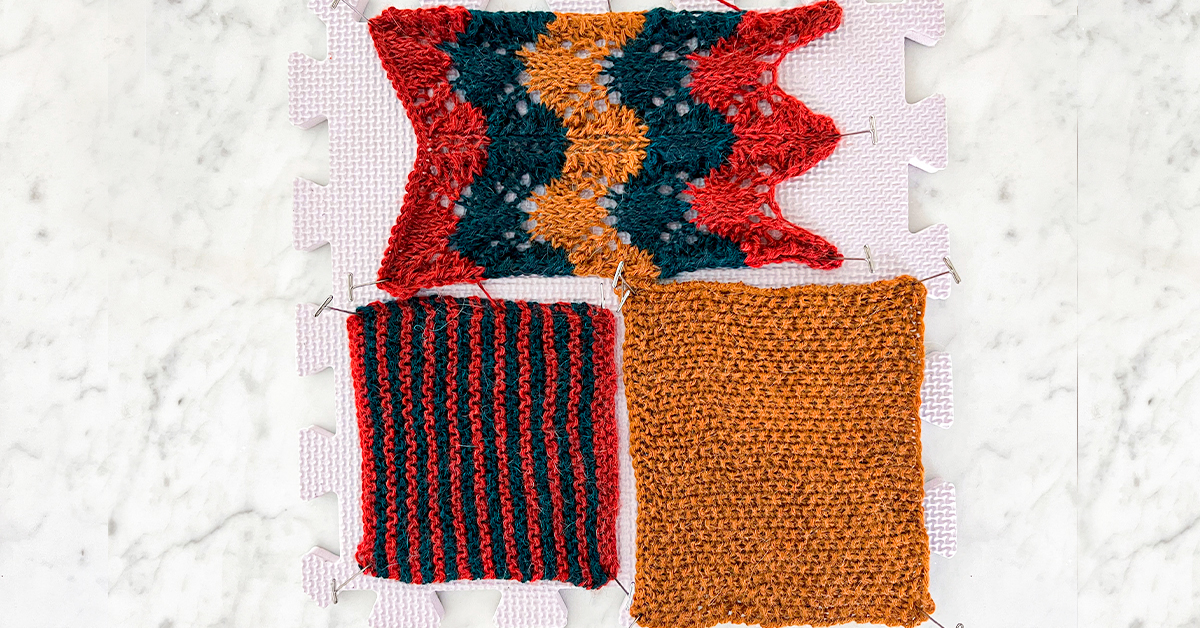 A lifeline is a way to keep yourself from having to rip out all of your work if you make a mistake. Instead, you will be able to rip your work back to just a certain point. 
This is really helpful when you are working on complicated lace or cables that you know you are prone to making mistakes in. You can use a lifeline periodically to make sure that your work can be unraveled if necessary without having to worry about dropped stitches or lost yarnovers. 
To place a lifeline, take a piece of scrap yarn in a lighter weight than what you were using for your working yarn and a color with enough contrast that you'll be able to see it easily. Put it on a darning needle, and then thread it through each of the working stitches on your knitting needles. Then continue knitting as normal. 
If you need to rip back, you can pull the yarn out to the point where the lifeline is placed, and then the lifeline will keep it from unraveling anymore. You can put those stitches back on your working noodles, and begin again.
Yarn held double
In some methods of knitting, you use multiple strands of yarn to make a picture or design. That's not what this is. In other methods of knitting, you use two strands of yarn and knit so that the yarn makes pictures on both sides of your work. That's also not what this is.
Knitting with yarn held double simply means that you have two strands of yarn and you are working with them as if they are a single strand. 
You knit and purl each stitch with both strands of yarn at the same time, all the time. You hold them together in your hand just as if you'd hold a single strand of yarn. 
This technique is common where a knitter wants to make a thicker yarn out of two thinner yarns or wants to add a little fuzz to a project by holding a strand of lace-weight mohair along with a heavier yarn for the main bulk of the project.
Increase evenly
This is a common instruction when making sweaters and shawls where the pattern designer has not done the math for how many increases to work across a particular number of stitches for each size. 
If a pattern says "increase evenly by 10 stitches," for example, it means to increase your total stitch count on that row by ten stitches spaced evenly apart. It does not mean to make an increase after every tenth stitch. 
If you have 140 stitches and need to increase evenly by 10 stitches, you would need to increase by one stitch every 14 stitches.
—
We hope this beginner knitter's encyclopedia is helpful to you! Knitting is full of wonderful techniques and skills to learn, but all the new vocabulary can be a little overwhelming. If there's a term or concept you find confusing, let us know and we'll add it to our next update.