Here at Yarnalia, we love a good wool yarn. Wool is a sustainable fiber that biodegrades after it's too worn out to use. It also has great memory, which makes it particularly well-suited to knitting projects. Bonus: it is moisture wicking and doesn't retain odors, so it's easy to care for.
And one of our favorite yarns is our Wooly yarn. We love the construction of Wooly, its fiber content, the way it is spun, and the many colors it comes in. Even better, we love how well-suited Wooly is to lots of different kinds of projects.
Today's blog post is going to feature an in-depth exploration of just why this is such a great yarn, look more closely at how it works up in different stitch patterns, and share some recommendations for how to use Yarnalia Wooly.
About Yarnalia Wooly
Wooly is a 100% superwash merino wool in a worsted weight. The ball band recommends knitting it up on a US size 9 needle, but it also works on slightly larger and slightly smaller needles. If you use a slightly larger needle, you'll end up with larger stitches that form a looser fabric with more drape. If you use a slightly smaller needle, you'll end up with smaller stitches that form a denser fabric that is more stiff.
Merino wool, the wool we've used in Wooly, is a really popular wool among knitters because of its softness. Merino wool has a measurement of about 15-25 microns, and a lower micron size (which measures the diameter of the wool fiber) means a softer wool. Wool can range up to 40 microns. Merino wool is a common wool for items worn directly against the skin.
Superwash wool is also highly popular because it's easier to care for than non-superwash wool. Superwash wool is treated with a chemical process that keeps it from felting if it gets sent through the washing machine. That means you can intentionally wash your knit items on the delicate cycle. It also means you don't have to panic as much if you accidentally send a knit item through the washer.
Yarnalia Wooly yarn is a worsted-spun yarn, which means it has a very smooth texture. It also has multiple plies, which make it a rounded, plump yarn with lots of strength and bounce in it.
Yarnalia Wooly Swatches

To show you what Wooly looks like in different contexts, we've knit it up in a few different swatches in different colors. We did this because some yarns are better suited to certain types of stitch patterns than they are to others.
Wooly turned out to be an exceptionally versatile yarn that worked well in lots of different stitch patterns. Come with us as we explore Yarnalia Wooly in all of its different forms.
Wooly in Garter Stitch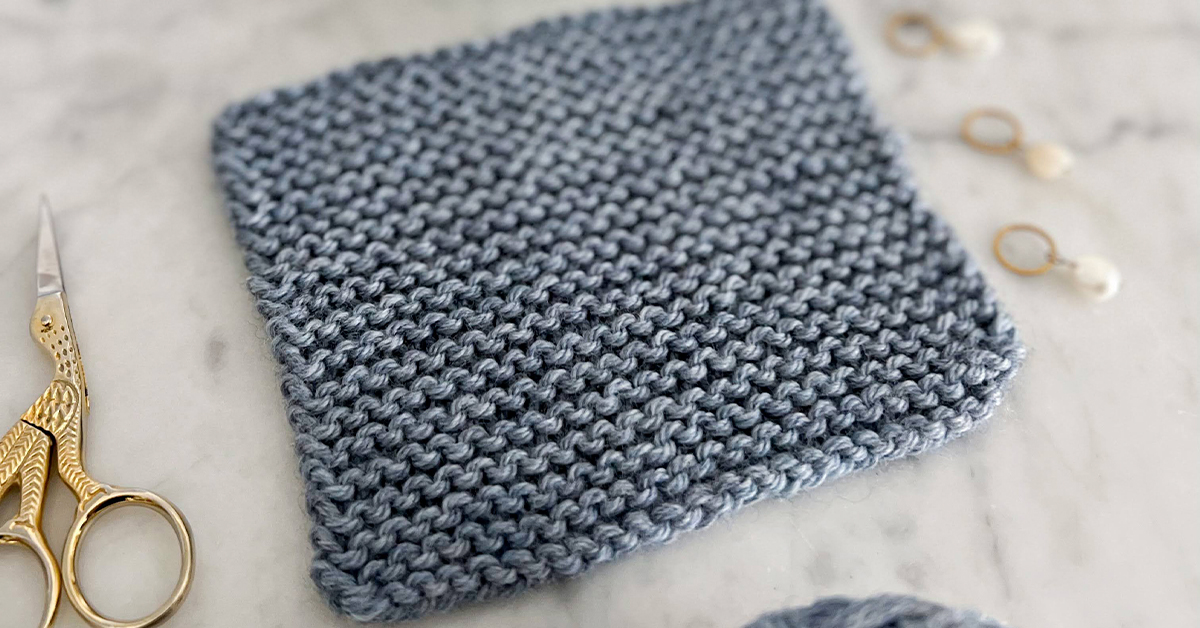 First, let's take a look at what Wooly looks like knit up in garter stitch. This swatch was knit using a US size 9 knitting needle, as recommended by the ball band.
It produces a squishy, fluffy swatch of yarn that is sturdy but still has some drape. If you are looking for a slightly more fluid fabric, you should go up a needle size.
As it is, Wooly knit up in garter stitch on size 9 needles is dense enough to keep you warm on brisk days and light enough that it doesn't feel heavy when being worn. It would be great for garments for both adults and kids because it is not so bulky that it would fit uncomfortably around little arms.
Wooly in Stockinette
Woolly in stockinette is a wonderfully smooth fabric. This swatch was also knit up on a US size 9 needle to best reflect the recommendations from the ball band.
As you can see from the photo, this swatch has very even, smooth stitches. That's because of the construction of this yarn. Wooly is a multi-ply, worsted-spun yarn, which means that it is very round and has excellent stitch definition. That roundness and stitch definition is what lends itself to these very regular stitches in the swatch.
That means Wooly will be a great yarn for knitting garments where you really want even, smooth stitches. For projects that have large spans of stockinette stitch, very simple textures, or cables that need to pop, Wooly is an excellent choice.
Wooly in a Lace Stitch
Finally, we knit up Yarnalia Wooly in a simple lace swatch. As with the other swatches in this post, this swatch was knit using a US size 9 needle.
You can see that the construction of the yarn really lends itself to lace work. This lacy swatch bloomed beautifully after blocking and retained its shape so that the open lacework is clearly visible. You can also see each of the decreases and each individual stitch.
We love how Wooly makes this swatch come alive. Because lace stitches tend to be a little larger and more open, this swatch has more drape than the garter stitch swatch above. If you were looking for a flowing, lacy project in a fairly sturdy wool, the US size 9 needles will probably serve you well.
An Important Note About Gauge Swatches
All of the swatches you see in this blog post were soaked in lukewarm water and laid flat to dry before photographing. That allows the fibers to bloom and the stitches to settle into place.
If you use Yarnalia Wooly to make a project, especially a garment, we strongly recommend that you knit a gauge swatch first and that you then soak the gauge swatch in lukewarm water and lay it flat to dry. This is not only because that lets the fibers bloom but also because superwash wool has a tendency to stretch when wet.
You see, at some point, you will need to wash your sweater. When you do that, if it's made from superwash wool like Yarnalia Wooly, that sweater will stretch. You don't want to spend dozens of hours knitting a sweater that fits you perfectly when it's unwashed only to have it stretch out the first time you wash it.
Working from a washed gauge swatch (usually called a "blocked" swatch) is the best way to ensure that you'll knit a sweater that actually fits you.
Recommendations
Woolly is a wonderfully versatile yarn. It's great for garment knitting, because it is sturdy and thick, but it's also good for accessories because the wool content holds its shape really well.
Because it is a thicker yarn, we generally recommend Yarnalia Wooly for hats, mittens, sweaters, and scarves. These are projects where a nice, thick yarn with good stitch definition can really shine.
Wooly is probably not well suited for most sock patterns, which require a finer yarn weight, or very intricate lace shawls. It would, however, be an excellent yarn for a chunkier lace shawl or for a garter-stitch shawl (like the gorgeous historic shawls you see on the popular tv show Outlander).
Whatever you end up using Yarnalia Wooly to make, you can count on this yarn to be a sturdy choice that will feel soft against your skin but will hold up well under heavy use. We hope you'll tag us in your photos of projects you've made using Wooly!