True to its name, our chunky-weight yarn Fluffy is a soft, squishy, lightweight blend of 30% merino wool and 70% acrylic. Fluffy has the plush, velvety feel of a chunky merino wool yarn at a much more affordable price. Hardwearing and easy to care for, it also works up quickly on a recommended needle size of US 13/9mm. All together, this makes it a great choice for knitting essential winter accessories like chunky hats, scarves, and cowls.
Fluffy's rounded three-ply construction creates excellent stitch definition. It's available in twelve heathered colors that all coordinate together, letting you mix and match to your heart's content. Below, we're sharing four essential winter accessory patterns that you can make in Fluffy. Let this serve as inspiration for all the things you can knit with this wonderfully versatile yarn!
COZY COWL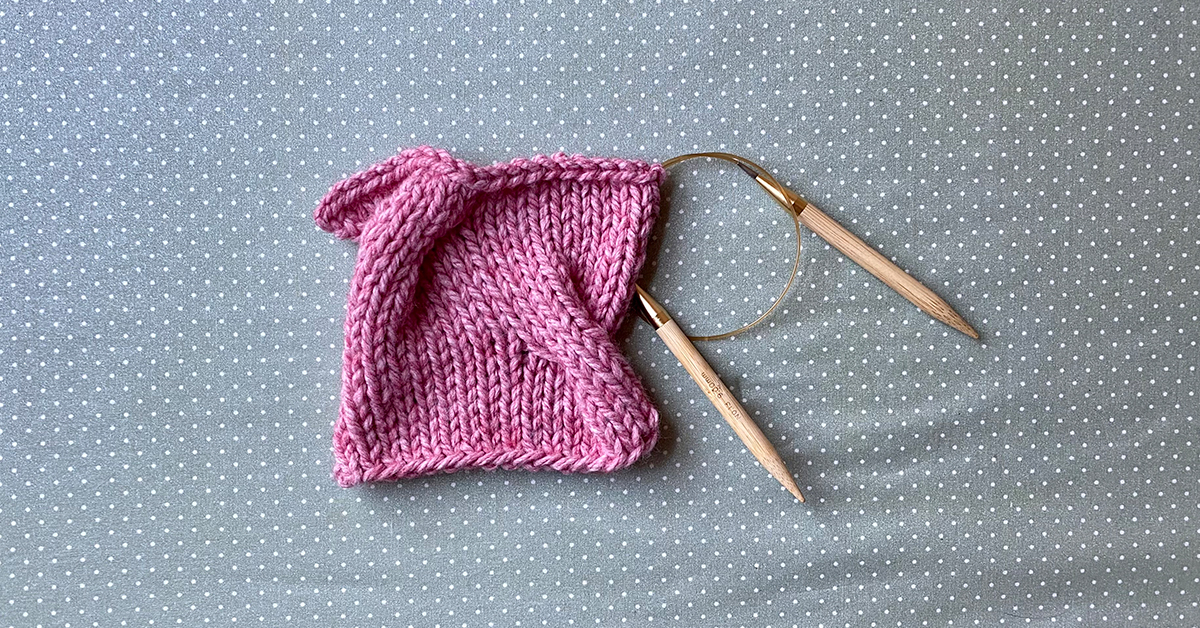 Our signature pattern in Fluffy is the Bliss Cowl designed by Vanessa Coscarelli Black. The cowl is made from a large cabled tube that's knit in the round and joined at the ends with Kitchener stitch for a seamless finish. The extra-cozy doubled fabric helps the cowl stand up around your neck, while the expertly placed cable crossings add the perfect amount of drape.
The swatch pictured here shows how simply choosing a different color can change the whole look of a garment. The original sample was knitted in the color Light Ocean Breeze, which makes the cables look like ripples on a tropical ocean; swatched in the color Light Ruby Shoes, above, they call to mind a softly rumpled flannel blanket.
OVERSIZED HAT
Each of the yarns in the Yarnalia collection are featured in the free patterns on our website. The Felicity Hat, designed by Matthew Schrank, was originally knit in Softy—but you can also knit this pattern using two strands of Fluffy held together! In the swatch pictured above, we combined two shades of Fluffy for a marled effect. (This combination of Light Ruby Shoes and Summer Blues reminds me a little of Smarties candies.) I love how the marled colors make the rick rack stitch pattern pop. Where the Softy version is very "après-ski," the Fluffy version definitely has big "on-the-slopes" energy.
VARSITY-STYLE SCARF
A chunky-weight yarn like Fluffy is the ideal yarn weight for making a classic ribbed, striped scarf. Working with US 13/9mm needles, you can complete a full-length scarf over a just few evenings of knitting! Simply cast on a multiple of 4 stitches + 2 extra (the swatch shown above was worked over 18 stitches) and start working a k2, p2 rib pattern.
Change colors every four rows, making sure to twist the color not in use with your working yarn to keep the edges neat. Finish the edges with some tasseled fringe. Striped pastels like Light Ruby Shoes and Summer Blues create a feminine look; to make it sportier, pair high-contrast colors like Golden Dust and Winter Stormy Sky.
CHUNKY SLIPPERS
Fluffy may not be the first yarn that comes to mind for knitting socks and footwear—but the fact that it's machine-washable makes it the perfect choice for house socks and slippers. This free Chunky Slippers pattern from Sheep and Stitch is knit in garter stitch on smaller-than-usual US10/6mm needles to create a plush, sturdy fabric. Each slipper is made from one piece that is seamed together using mattress stitch to form the final shape.
They're decorated with adorable contrasting pompoms. Once your Fluffy slippers are ready for a wash, you can just toss them in the laundry! (To keep your pompoms intact, I recommend removing them before washing and re-attaching them after the slippers are dry.)
What are you knitting with Fluffy this winter? Remember to tag us on Instagram when you post your projects, and we'll share it to our page!