In our previous posts about knitting using two yarns held together—also known as double-stranding—we've talked about pairing solid-color yarns, like Wonder and Marvel or Wooly and Skylark. But what happens when you try the double-stranding method using a variegated yarn like Stormy, our sock weight yarn?
Double-stranding is a fun way to find new color dimensions in a self-patterning yarn. A space-dyed yarn like Stormy has a variety of colors in one skein, and adding a solid color will bring one of these colors to the foreground and completely change the look of the colorway. This method also helps to make variegated yarns more wearable for a sweater knitting pattern, where you might want to make the color shifts happen more gradually. 
FINDING THE COLORS IN STORMY
For this post, we are spotlighting Stormy in the colorways Cherry Blossoms (pictured at the top) and Sand Dunes. At first glance, these colorways look completely different. Cherry Blossoms features a flash of bright coral, while Sand Dunes is composed of tonal neutrals. 
Taking a closer look, however, we see that each of these colorways include similar shades of white and beige. In Cherry Blossoms, these shades appear more like accent colors, whereas in Sand Dunes, they form the base of the tonal colorway. 
MAKING YOUR YARN PAIRING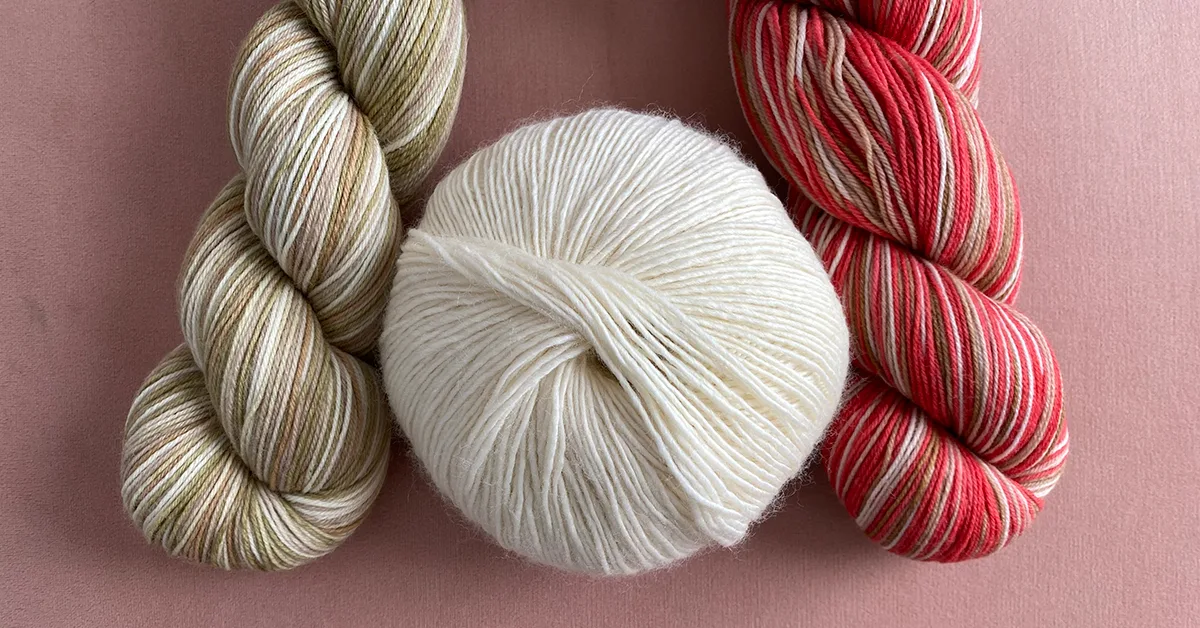 Skylark's one-ply construction of 100% superwash merino wool can be knitted across a range of needle sizes, which makes it widely adaptable to pairing with other yarns. Combining it with Stormy creates a soft, breathable, and machine washable fiber blend of 85% superwash merino wool and 15% nylon.
Stormy is a classic sock weight yarn with 400yds/100g, and Skylark is a heavy fingering weight yarn with 320yds/100g. When we plug these numbers into our double stranded knitting gauge formula to determine our knitting needle size, we get 180yds/100g, which is the same put-up as a worsted weight yarn. I decided to knit my swatches on a US size 8 needle, which produced a nice, elastic fabric with lots of drape at a gauge of 4.75 stitches per inch.
CHOOSING YOUR ACCENT COLOR
We found shades of white and beige in Stormy Cherry Blossoms and Sand Dunes. Skylark in Snow, a soft white shade, makes a natural pairing for each of these colorways. Snow blends perfectly with the white tones in each colorway, which makes it melt into the background whenever a section of white appears. 
We also knitted Stormy held together with Skylark in Hazelnut, a deep warm beige color. Because the beige sections in Cherry Blossoms and Sand Dunes are less prominent, pairing them with Hazelnut created an overall heathered look while accentuating the subtle tones of brown found in each colorway. 
PROJECT IDEAS FOR STORMY AND SKYLARK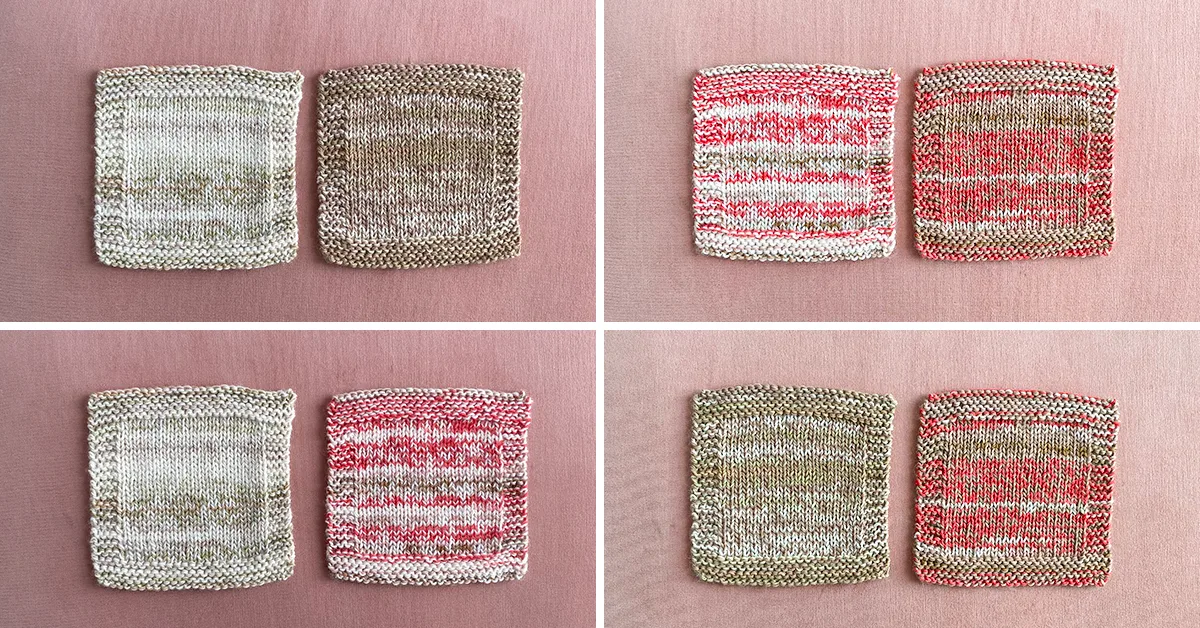 Top left: Stormy Sand Dunes + Skylark Snow (L) & Stormy Sand Dunes + Skylark Hazelnut (R); Top right: Stormy Cherry Blossoms + Skylark Snow (L) & Stormy Cherry Blossoms + Skylark Hazelnut (R); Bottom left: Stormy Sand Dunes + Skylark Snow (L) & Stormy Cherry Blossoms + Skylark Snow (R); Bottom right: Stormy Sand Dunes + Skylark Hazelnut (L) & Stormy Cherry Blossoms + Skylark Hazelnut (R)
Now that we can see all the different color combinations that are possible from combining Stormy and Skylark, it's time to get inspired by all the different ways you can use them in your projects! You could simply combine one shade each of Stormy and Skylark to create a variegated fabric with heathered colors and gentle tonal shifts, as seen in the swatches above. Or you could experiment with striping by using one of the Stormy colorways as a base and alternating stripes of Skylark Snow and Hazelnut—or vice versa.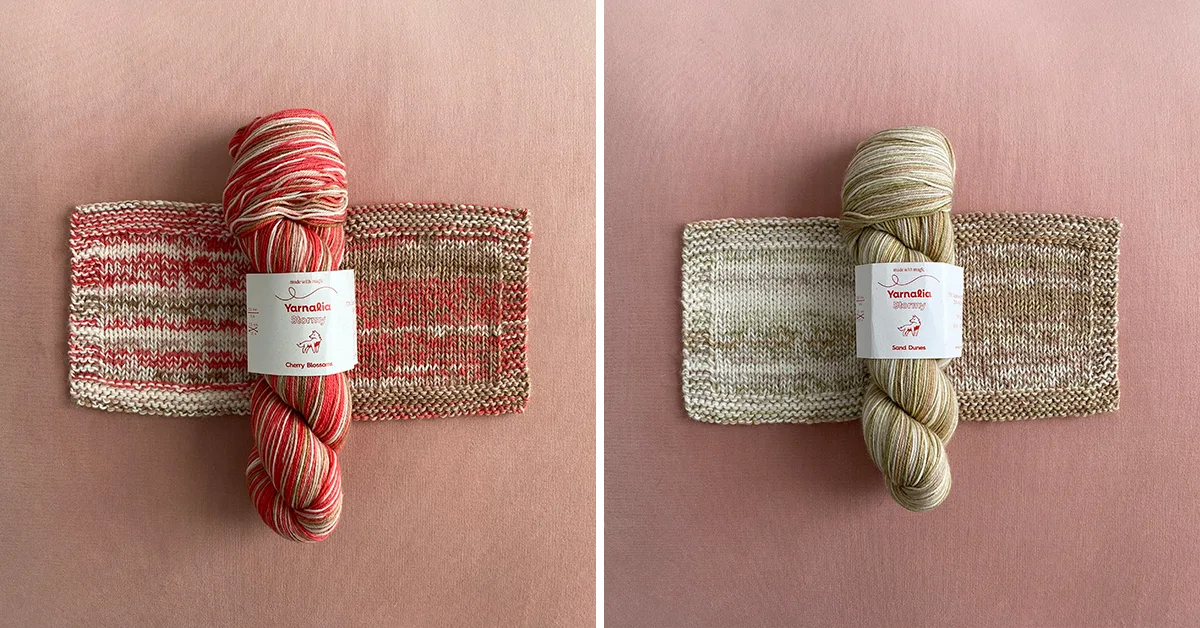 You could also create a fade as follows: Work the first section using Stormy Sand Dunes and Skylark Snow held together; work the second section using two strands of Sand Dunes held together; and work the final section using Sand Dunes and Skylark Hazelnut held together. The same technique would also work using Stormy Cherry Blossoms. 
What ideas do you have for working with Stormy and Skylark held together? Remember to tag us at @yarnalia whenever you post your projects. We'd love to see what you're working on!