In 2023, Yarnalia is feeling inspired by warm, vibrant color. We took a deep dive into our yarn collections and prowled through color forecasts for the year to find inspiration for some future projects this year. Because we love color so much, we thought we would share our inspiration with you.
Inspiration Sources
First, we spent some time looking at the color forecasts published by WGSN, which is a consulting company that works with a lot of fashion and interior design firms to shape the color palettes of coming collections. If you're interested in keeping an eye on trends and making sure your color inspiration is fresh, this is a great place to start.
We love trend forecasts because our instincts can only get us so far without a little bit of data behind them. When we have access to data gathered by others, we can also do a gut check and see whether our sense of what's coming is accurate. In this case, our instincts aligned!
We've been feeling a pull toward rich, warm colors, with pops of unexpected pastel to help lighten the palette. We have a collection that lines up perfectly with these forecasts and wanted to see how we could play with those colors in new and fresh ways.
Gathering up Supplies
To do that, we dug into our stash and took a look at what we had. Yarnalia's current color palette is full of the colors predicted to be staples in 2023, and we have these colors on several different yarn weights. We decided to do a little swatching and see what we could come up with.
We also wanted to make sure those swatches showed off several different textures. In this pile of knit squares, you'll find garter stitch, seed stitch, stockinette, a lacy panel, and a heavily cabled panel. With that information in mind, you can more easily envision how you'd like to turn this yarn into your own projects.
Some of the yarns we played with included our Wonder yarn, Marvel, Skylark, and Cozy. There are so many possibilities in the Yarnalia collection of yarns that we couldn't swatch all of them, but we hope this guide gives you some ideas.
Some Favorite Color Combinations
Let's take a look at some of the color combinations in this collection. We started with five main colors: lavender, goldenrod, verdigris (or a deep teal), red, and a warm, medium blue. These colors match the forecast from WGSN, and they also satisfy our craving for rich hues with strong saturation.
Lavender and Goldenrod
Lavender and goldenrod is a timeless pairing. This combo is reminiscent of echinacea flowers with their soft purple petals and bright yellow centers. Color combos that echo flowers and other parts of the natural world are often a pairing that people will find soothing and pleasant. A floral pair like lavender and goldenrod will help you feel a bit cheerier both while you work with these yarns and while you wear your finished object.
Goldenrod and Verdigris
Goldenrod and verdigris are another classic combination. The brightness and warmth of the goldenrod perfectly balances out the cool depth of the verdigris. When the two are next to each other, they give off a luxurious and slightly mysterious aura, like an old book bound in deep green leather with gold-stamped decorations on the cover or the richly embellished tapestries in a palace.
Red, Verdigris, and Lavender
When you pair red, verdigris, and lavender together, you end up with a color combination that is surprisingly sumptuous. The verdigris keeps the color combination grounded in a lush, dark hue, while the lavender keeps things from feeling too heavy and oppressive. The goal here isn't to replicate a Victorian drawing room in our knits; it's to luxuriate in color while adding a few surprising elements that keep it feeling fresh and new.
All Five Together
When all five of these are paired together, you have a joyful riot of color that is still harmonious. The lavender and blue help bring in some brightness, while the red and the verdigris add weight. The goldenrod balances things in the middle with a bit of warmth that isn't too aggressive.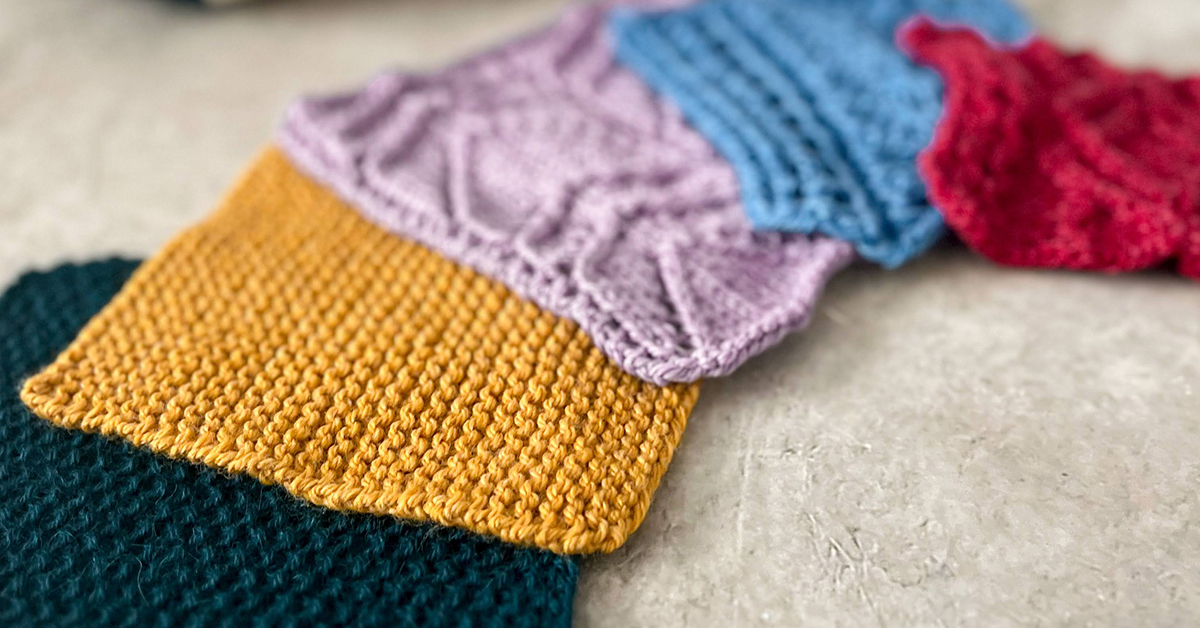 Project Ideas
It's fun to consider these color combinations in the abstract, but it's even more fun to consider them as part of an actual projects. Let's take a look at some project ideas!
Ideas for Two Colors
Working with two colors is a great way to use one for contrast or as an accent color while the other gets to be more dominant. You can choose one color for the main body of a sweater and use the second for the collar, cuffs, and hem. You could also do that for a pair of socks.
Another great way to use a second color is to thread it lightly through whatever it is you're making. Let the main color be dominant, and stripe the contrast color through in narrow stripes or even one-stitch speckles. For example, you could knit a hat with the contrast color for the brim, and then do one-row stripes with the contrast color as you work the main body of the hat and use the main color for much thicker stripes.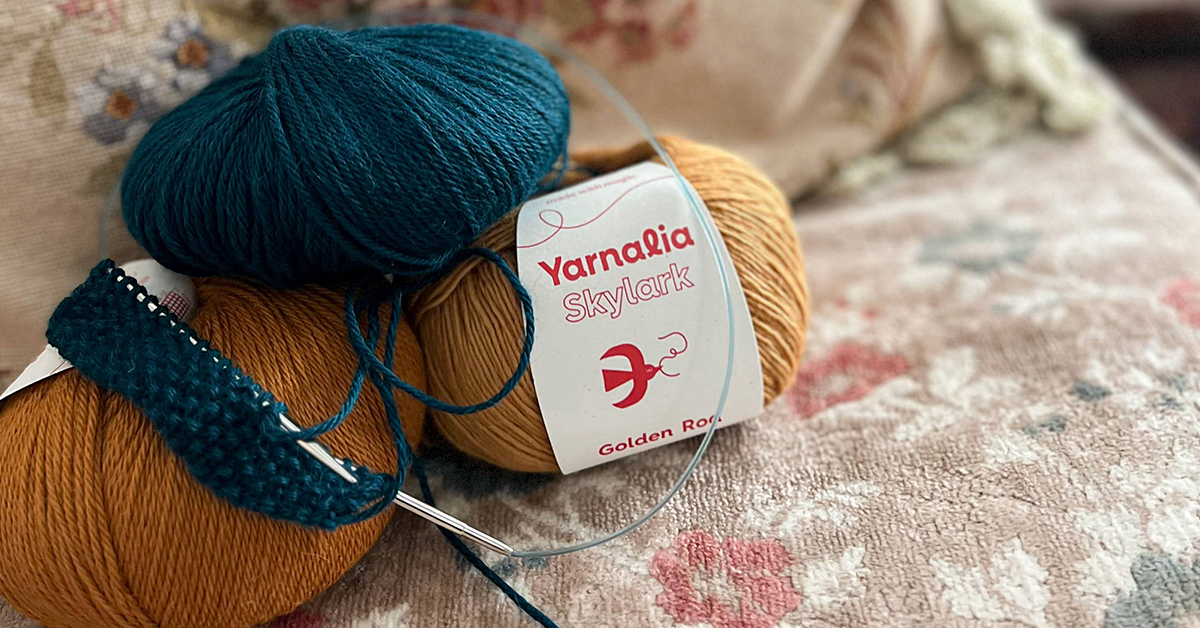 Ideas for Three Colors
When you combine three colors into your project, you get a few more options. Do you want each color to have equal weight? Do you want one color to be the standout and the other two to provide accents? Do you want to give equal weight to two colors and have another color be just a break in things? The combination possibilities expand dramatically.
One thing we love is when a hat or cowl has the ribbing in one color and then stripes in two other colors in the main body. This gives you the opportunity to really play the colors off each other.
You could also do a scarf with the three colors all balanced evenly, and perhaps do a fade between them where you blend the colors as you transition from one to other.
Ideas for Four or More Colors
Once you start to incorporate four or more colors, you're mostly looking at one of three options: lots of stripes, intarsia, or stranded colorwork like fairisle.
If you want to go the lots of stripes route, you have lots of options! Hats, sweaters, and scarves are all popular striped items. Make sure to take a look at some of the resources online that show how to work stripes in the round without having a jagged break, or a jog, in the colors.
Intarsia is a technique that uses yarn to make pictures in a knit garment. Remember those sweaters with flowers on them, mountain scenery, or funny animals? All intarsia. You could use these colors to make items with landscapes, butterflies, or woodland creatures, too. We love cowls for this type of project because you can learn to manage your intarsia work without also having to pay attention to garment shaping.
And finally, these colors would look great in a classic fairisle sweater or a pair of Scandinavian-inspired mittens. When you can combine lots of colors together in tiny details, you'll find real joy in your work. For this type of stranded colorwork, we particularly recommend our Marvel yarn, which is a wool-acrylic-nylon blend with a slightly toothy texture that will help the stitches stay crisp against each other.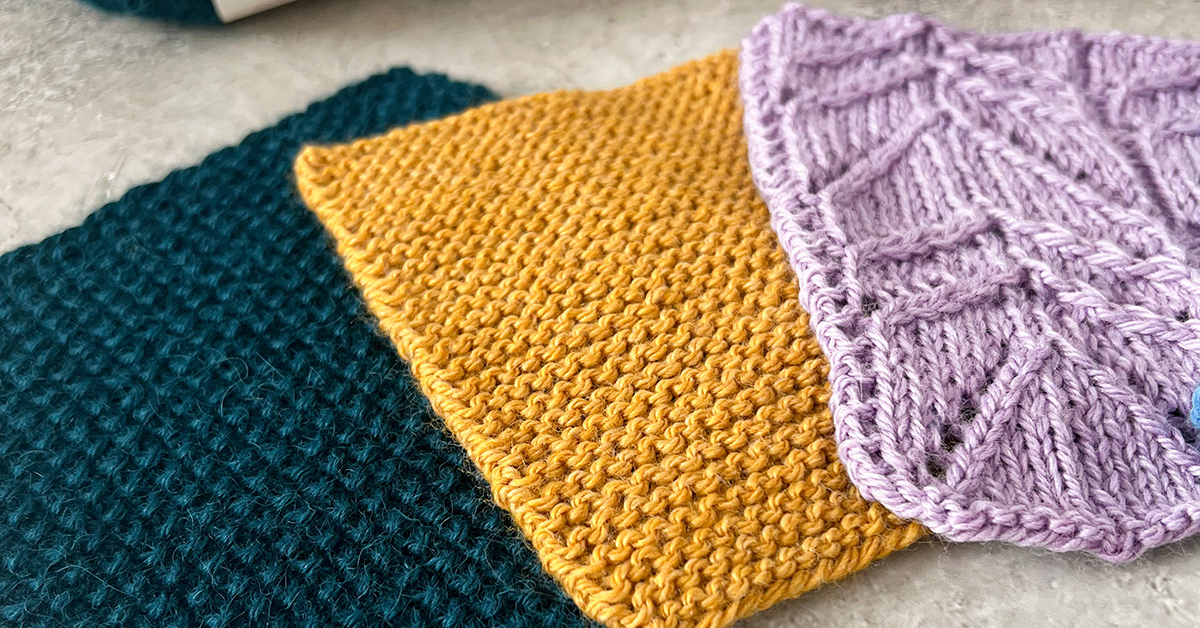 If you're new to playing with color and a little intimidated by coming up with your own combinations, we hope this collection of ideas will help you find your confidence and try something new! And if you're an old pro at playing with colors, we hope these combos feel fresh and delightful as we move into the new year.